Light Meets Dark Tour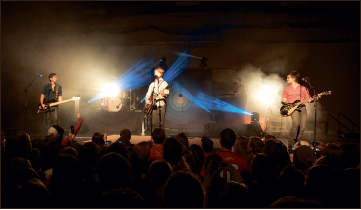 The line wrapped around the block in the chilly November air, waiting for the Schilling Center doors to open for the Tenth Avenue North Concert Saturday night.
The concert opened with Matt Maher and worship band Addison Road. Maher played hit worship songs such as "Alive Again" and "Hold Us Together." During an intermission, Tenth Avenue North band members spoke to the crowd about raising awareness for global sex slavery as well as sponsoring children in poverty all over the world.
"We have been working on an idea about how to address this issue that has been laying on our hearts for the last year and a half," drummer Jason Jamison said. "There are 27 million slaves in the world today, that (amount) is more than ever in world history. It's happening all over the world, and it's happening in our backyard in America."
The band has partnered with Compassion International to raise awareness about global poverty and what students could do to help. Folders with international children's profiles were passed out through the crowd for students to decide if they wanted to sponsor a child for the price of two lattes a week, according to lead singer Mike Doheney.
The band performed their hit songs including "Light Meets The Dark" and "Love is Here."
This was Tenth Avenue North's first headlining concert at Liberty.