A night full of ballyhoo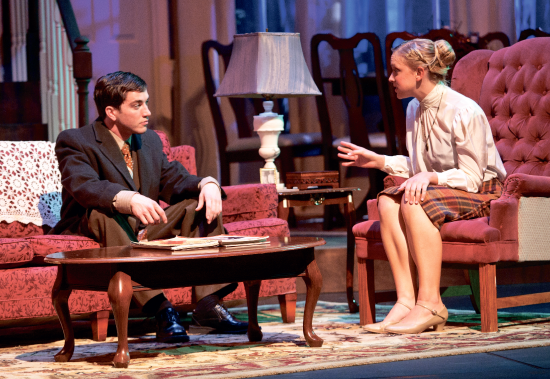 German Jews, high society, Christmas trees and plenty of Ballyhoo abounds in the Liberty Theatre Department's latest production "The Last Night of Ballyhoo."
The story follows college student Sunny Freitag and her family during her Christmas break as her aunt and cousin obsess over the details of German-Jewish society's biggest event of the year, The Last Night of Ballyhoo, in 1939 Atlanta, Ga.
Sunny has no desire to attend the country club event, and her cousin Lala is simultaneously trying to land an escort to the dance and go see "Gone With the Wind," which just debuted, as many times as possible. Meanwhile, her uncle Adolph brings home a handsome young Russian Jew from New York, Joe Farkas, who has recently started working at the family's mattress-selling business.
Lala tries to get Joe to take her to Ballyhoo as her escort, but he ignores her advances and instead asks Sunny to attend the dance. Sunny accepts, and the date eventually leads to Sunny confronting her own bias against her Jewish heritage. In the meantime, Lala battles her jealousy of Sunny and tries to woo a rich suitor, Sylvan "Peachy" Weil. Lala's mother, Boo, confronts her brother Adolph over his preference of Sunny over Lala as well as his exclusion of Boo from the family business, which Boo feels would prosper if she were allowed to participate.
The play's light-hearted tone addresses the issues of intra-ethnic bias, which was prevalent during World War II. The Freitag family boldly displays a Christmas tree in their living room, and Sunny's mother and aunt refer to Eastern-European Jews as "the other kind."
The Last Night of Ballyhoo was one of three plays written by playwright Alfred Uhry that focus on Jewish life in the South. The play was first performed during the summer Olympics of 1996 in Atlanta, and was later moved to Broadway where it won a Tony award, according to director Professor Neal Brasher.
"I have enjoyed working on the other Uhry plays and this one as well. He writes vivid colorful characters that are fun to direct and play," Brasher said. "Also, this production features a cast of seven actors, five of which have never performed on the Liberty stage. It's always exciting to work with these new players and see what they will bring to our season."
The Last Night of Ballyhoo opened on Oct. 29 and will only run until Nov. 6. Ticket information is available on the Liberty Theater Arts website, which can be found through the Liberty Splash page.