Div. I Hockey now live on website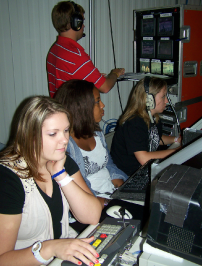 The Liberty Flames Division I men's hockey team and the New Media Communications department have teamed up to bring all home games live to the Club Sports website.
"(Division I Coach) Kirk Handy called me and asked if there was any way we could video stream the games," Director of New Media Communications Bruce Braun said.  "I knew that the Chancellor had a passion for involving students by providing to them meaningful mentoring and hands on opportunities, so I saw this as a perfect fit."
Since Braun saw the opportunity to give students production experience, the crew is completely made up of students.
"I love the fact that it is entirely student-run because it gives us the chance to test ourselves and see what we can do," replay operator Hannah Elliot said.  "It's such a great atmosphere to work in because everybody is so friendly and we all try to help each other learn from our mistakes in order to get better as a team."
Braun and his department taught students who are involved in the production how to do a live production of a hockey game. Camera operating, directing, using replay machines and other basic elements were covered.  After training, the student crew did their first game for the Blue and White Scrimmage Sept. 10.
"I personally believe our students have enormous potential, and given the tools and some explanation and guidance they can often surprise us, as they did during their first ever game," Braun said.  "By providing them with tools, hands-on experience, mentoring and support, they gain valuable lessons in life, learn teamwork and can hone new skills that will be of great value to them when they graduate and enter the job market."
Producing the games is no easy task, student director and producer Toney Byrnside said.  There are many students involved in making the production as professional as possible.
"On average, I would say we have between 10 and 15 people, including myself," Byrnside said.  "Right now, we've got five cameras, a replay machine and a Tricaster, which is what switches the program.  We have everything from a technical director to a graphics person to several assistant directors."
To make the production as professional as possible, the hockey team also provided two commentators who call the game.
"It is quite the system, but it works," Byrnside said.  "And so far, everything has gone pretty smoothly."
Not only will the live streaming video be used for fans to watch, but Handy said it will be a great recruiting tool.
"It is also going to be used for those hockey players that we are specifically recruiting to come down and play," Handy said.  "I think it is going to be a good advantage for us to try and get them to come."
All Division I men's hockey games can be watched streaming live on the Men's Hockey team website for the duration of the season.  There are also select games being broadcast live on WTLU-The Liberty Channel throughout the season.  The next home game is at 7:30 on Oct. 22 ut the season.  The next home game is at 7:30 on Oct. 22 against University of Maryland Baltimore County.
MARVEL is the sports editor.