Mullen to govern student body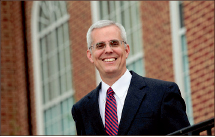 Pastor of Shenandoah Baptist Church pledges support for staff as new Dean of Students
Robert Mullen is taking over for Keith Anderson as the new dean of students.
Mullen practiced law for nine years and then served as senior pastor of Shenandoah Baptist Church in Roanoke, Virginia. According to Mullen, his unique combination of careers gives him an advantage in the dean of students position and his background enables him to better understand people and how to help them.
"There are a lot of similarities between the role of a pastor and the dean of students," Mullen said. "The key for any pastor is to have a heart for people. The same is true for the dean of students. As a pastor of a larger church, I had a great staff to work with to accomplish the ministry the Lord gave us. One of my key roles was to "equip the (staff) to do the work of the ministry." I see my role as Dean of Students in the same way — helping our staff help students become Champions for Christ."
The Dean of Students is in charge of the offices of Student Care, Student Conduct, Campus Pastors and Commuter Services. According to the Dean of Students Office website, its mission is to help meet the myriad of needs of Liberty students.
"The Dean of Students Office … exists to meet the emotional, physical and spiritual needs of each student in a way that promotes holistic student development and individual maturity," their website said.
Mullen helps guide and encourage the staff members, who in turn guide and encourage the students. His enthusiasm is sure to spill over and motivate the already passionate staff to perform at an even greater level of success.
"I am sure that there are some things that we can work on to improve, but I am very encouraged with the excellent staff in our office and the service being provided to the university," Mullen said. "The Dean of Students (Office) staff is highly professional and passionately committed to their ministry. The Dean of Students Office already provides a number of spiritual and educational programs and resources designed to help students. I would like to expand these opportunities to be even more proactive in meeting the needs of students."
Mark Hine, senior vice president for student affairs, said Mullen's experience in ministry, his graduation from Liberty and his law degree from the University of Virginia make him the right person for Dean of Students.
"Robert Mullen is aperfect fit for the Dean of Students position," Hine said. "His training in law and his ministry experience equipped him for such a time as this."
Mullen is proud of the work that has been done at Liberty, and he wants to see the university continue to flourish. He believes it will take effort and ingenuity to meet all students' needs. Mullen also plans to accommodate more students by intentionally taking steps to serve them.
For more information on the Dean of Student's office visit liberty.edu/studentaffairs/deanofstudents or call 434-582-2651.