Wright shares tips and advice
Students attend a two-day journalism workshop and receive insight from alumna and industry professional
Digital Media and Communication Arts (DMCA) students gathered April 17 and 18 for the two-day journalism workshop featuring Pittsburgh's WTAE morning news anchor and Liberty alumna Michelle Wright.
The conference, which is the first of its kind for the department, drew 50 students studying print and broadcast journalism, as well as public relations and advertising majors.
Wright spoke in multiple workshops each day, sharing stories of successes, failures and life lessons. This event concluded the celebration of the Liberty Champion's 30th anniversary.
Thursday afternoon, Wright met with students in groups of two, giving individualized feedback on projects they had submitted to her for review.
"This was the highlight of the event for many of the students," Deborah Huff, associate professor of DMCA, said. "They had completed a video package for a classroom assignment, and they were submitted for Wright to critique. Not only did she bring her own comments to the session, but she had 10 other professional broadcasters give feedback as well."
Wright turned the assignment into a competition and awarded trophies to the winning team. Sophia Hahn and Mark Tait won this competition.
"I thought I had done a good job, but I didn't expect to win the award," Hahn said. "There are a lot of really talented people we were up against, so I was ecstatic when I found out Mark and I won."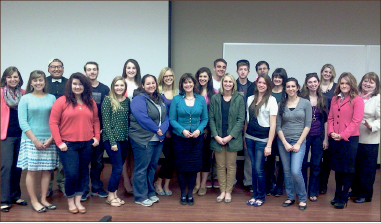 In addition, Wright challenged the students in their writing abilities, offering an award to the student who could develop clear, well-written news copy from a list of information she provided. Senior Sam Campbell won the award for this contest.
"It was an honor to win the writing assignment award," Campbell said. "I didn't expect it at all. Having Mrs. Wright choose my story showed me that maybe I do have the talent to succeed in this crazy media business after all."
Hahn, Tait and Campbell walked away from the competition with $50 gift cards to Panera Bread, as well as validation from a leader in the news industry.
Huff said she appreciated the Center for Teaching Excellence for sponsoring the workshop through the Illuminate Grant.
"Sharon Wheeler encouraged us to apply for the grant," Huff said. "It turned into a valuable investment for our students."