Wallace premieres movie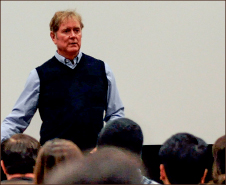 Students attend free screening of "Heaven is For Real" at Lynchburg theater
"It is a story about a father… and this father … was a man I admired," Randall Wallace said about Todd Burpo, author of "Heaven is for Real."
Wallace, the director of "Heaven is for Real," and Burpo visited Liberty University Wednesday, March 26, to encourage students from the Zaki Gordon School of Cinematic Arts to pursue success in filmmaking as well as show a screening of their film.
Both Wallace and Burpo explained they had many obstacles to overcome to get to the place they are at today, and none of it would have been possible without God.
"Everything I am is nothing unless God transforms it … ," Wallace said. "I happen to know how weak and worthless I am unless God makes me into something new, and it happens everyday.
So the creative process … is an act of faith, and you can't make that act of faith unless you believe you are going to fall into the arms of God."
In a question-and-answer session with cinematic arts students, Wallace spoke about his journey of becoming an Oscar award-winning Hollywood director and screenwriter. He explained how he first majored in religion before trying to become a songwriter in Nashville, Tenn., and then finally writing "Braveheart," the movie that kick-started his career.
"Over and over I was rejected," Wallace said. "How easy do you think it should be to talk to the whole world?"
According to Wallace, he wrote 12 drafts of "Braveheart" before it was even considered by a production company. He encouraged students to never quit, but always finish strong.
"You don't have to be perfect today, you just have to be willing to learn tomorrow," Wallace said. "You are here to be leaders, but what will you do with that leadership? I believe the only way to be a true leader is to be a follower of Jesus."
Cinematic arts senior Zach Boyd said he enjoyed being able to hear from Wallace about his experiences in the film world.
"It was great, he is real down to earth," Boyd said. "You would never think he is the 'Braveheart' writer and director. It was like 'Wow, gosh, he is a legend.' It was definitely really cool to listen to his story."
Wallace then spoke about his writing process and how he loves to create stories about love, hope and honor, explaining how these qualities motivate him.
"My job is to inspire others, and I can't do it if I'm not inspired myself," Wallace said.
Burpo and Wallace also discussed "Heaven is for Real" and what it was like to make the story based on true events come to life.
"'Heaven is for Real' is about the biggest conflict — what do you believe, and when do you believe it," Wallace said. "I'm proud of … Todd (for) standing up for his son and the guts to share the story."
According to Burpo, he was nervous about telling the story to the public, because he did not know how people would receive it.
"Everyone thinks I was a willing servant to this process, but I have been reluctant the whole way," Burpo said. "I wrote 'Heaven is for Real' years after it happened to protect my son."
Burpo explained how his success had an effect on his church and himself as a pastor.
"Success is something church people cannibalize each other for," Burpo said. "Do you know how many people are mad at me because my son came back, but their child didn't? I get that all the time. 'Well what makes you special? Why did God answer your prayer, but he didn't answer mine?'"
Success can be volatile in the church, Burpo said. After he wrote "Heaven is for Real," many people left his church, cutting his attendees nearly in half, from 140 people to 80 people.
"A pastor is not supposed to have a lot of money, and a pastor isn't supposed to be important," Burpo said. "He is supposed to be the waiter for everybody in the church, and all that stuff changes when you have success."
Despite the uncertainty created by his success, Burpo said he does not regret sharing his story.
"With our story, I think everyone recognizes that you aren't going to get a more pure or more innocent or more accurate witness than a child," Burpo said. "People cannot explain away what he saw by the drugs or the chemicals creating memories he never had. He either experienced this or he didn't and, if he did, a heavenly answer is the only answer you are going to come up with, period."
Wallace said he contributes the success of "Heaven is for Real" to faith in God.
"I felt Todd's story was about true living," Wallace said. "If we didn't believe where we were going, we weren't going to be able to do it. It was a leap of faith. … Faith is not the absence of doubt, faith is what you do in the presence of doubt and the presence of the unknowable."
As Burpo and Wallace finished talking with cinematic arts students and faculty, Liberty students were already lining up at the Regal Cinema for the free showing of "Heaven is for Real." Although Liberty rented out an extra theater for the screening, creating 1,000 more seats for students, seating filled quickly and many people had to be turned away, according to Johnnie Moore, Liberty senior vice president for communications.
President Jerry Falwell, Jr. explained that he is excited for the future of Christian films and Christian filmmakers coming from Liberty.
"I think they are going to make a huge impact on society," Falwell said. "The attention span of students these days, they won't sit and watch a two-hour sermon anymore … but they will watch a film, and I think that is the medium of the future to spread the good news."
The movie will open in theaters nationwide April 16. For more information about the movie, visit sonypictures.com/movies/heavenisforreal.