Snowboarding for speed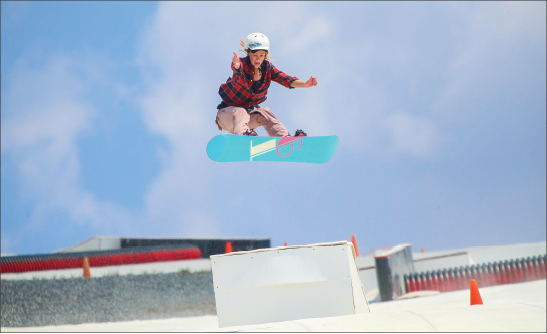 Snowflex closed out the school year by hosting the Quiksilver Quikrun competition
Liberty student skiers and snowboarders were invited to participate in the Liberty Mountain Snowflex Centre's first official Quiksilver Quikrun Saturday, April 12.
According to Ryan Leeds, a Snowflex employee who helped with the Quiksilver Quikrun race, the event had unofficially taken place once before during the summer.
"This is the first time we have done this event during the school year," Leeds said. "We did a small competition like this during the Snowflex summer camps, and it went pretty well. We figured we should try to incorporate this into the normal Snowflex competition schedule, just to give competitors something different to compete in."
During the event, participants experienced sunny, 70-degree weather. Registration at the Liberty Mountain Snowflex Centre started at noon, and the race started at 1 p.m. Seven riders competed to see who could make it down the slope in the shortest amount of time. Five competitors were male and two were female.
"The event got started with an idea to have a race down Snowflex while using the terrain park features," Leeds said. "The idea is to get the fastest time. However, you can get time taken off of your run if you do some tricks that have a higher level of difficulty."
Each rider was allowed to have one practice run and one real run. One girl took a pretty bad fall during her practice run and contemplated not doing her official run. After resting a few minutes, she decided to continue to ride.
"This is not a big event. It's meant to be a fun (and) less serious event where people can just go out and have fun," Leeds said. "This is an event that anyone, no matter what their skill level is, can go out and possibly win."
The prizes were different types of Quiksilver snowboarding gear. The winner received a backpack. Other participants walked away with facemasks and lunchboxes, and everyone who competed received a prize.
The winner was 2012 alumnus William Scheren, whose winning time was 18.45 seconds. Scheren has been snowboarding for 15 years. Although he now lives in Baltimore, he still comes back on some weekends to snowboard at the Liberty Mountain Snowflex Centre.
To find out about other Snowflex events, visit liberty.edu/snowflex or call 434-582-3539.