Siblings 'Seiz' the spotlight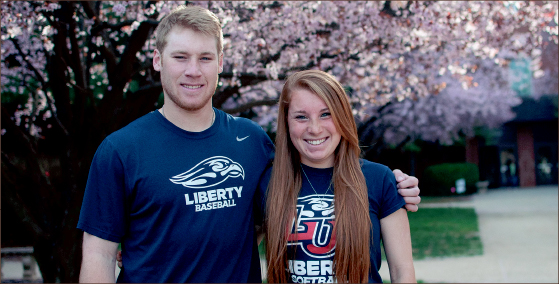 Ryan and Holly Seiz show support for each other not only on the diamond, but beyond as fellow students
On a bright March day at the Liberty Baseball Stadium, Flames second baseman Ryan Seiz was momentarily distracted from the game at hand by the sound of someone screaming in the stands.
It was not your average cheering crowd, an emergency of some sort, or even an angry fan of the opposing team. Instead, Ryan Seiz looked up and found the source to be none other than his younger sister Holly Seiz, wielding embarrassingly large signs emblazoned with the words "GO SEIZ."
"Oh, yeah, those were awesome," Holly Seiz said, she and Ryan Seiz laughing. "I love going to his games, making posters, putting stuff on social media. I love it. It's so special."
The best part of all? Ryan Seiz gets to return the favor. Holly Seiz plays infield for the Flames softball team, and the two self-declared best friends cite each other's support as one of their favorite parts of playing their sports.
Growing up, Ryan Seiz was the first of the two on the diamond.
"Holly was actually a total princess," he said, turning to his sister. "She took, like, ballerina classes or whatever you call those and was always complaining about not wanting to play sports. She hated them."
Only at their father's urging did Holly Seiz finally make her athletic debut.
"It was T-ball, first," she admitted, cringing slightly.
Ryan Seiz's eyes widened, as did his grin.
"It was T-ball, wasn't it?" he said. "Oh, man, with those sweet purple jerseys!"
"Yep," Holly said, rolling her eyes. "Yeah, that was bad."
It was the start of the siblings' shared passion for their sport.
"Our father pretty much taught us to play infield the same way," Ryan Seiz said. "So if you look at our swings and everything, it's like they're mirrored. They're the same, exactly."
They also played the same position, third base, for the same high school, where Ryan Seiz could watch Holly Seiz's games from the baseball diamond. It was a unique experience, one the two did not expect to share again once Ryan Seiz graduated.
"My sophomore year of high school, I came down here (to Liberty) for a visit and they offered me a scholarship, but I didn't go here," he said. "I went to Louisville instead, played two years there and then had to transfer out."
It was the same year that Holly Seiz — who, on the other hand, had dreamed of attending and playing softball for Liberty since middle school — arrived in Lynchburg for her freshman year and walked on with the team.
"I did not want to go to Liberty at all, actually," Ryan Seiz admitted. "But Holly was coming here and told me to just give it a shot. I said 'No.' I was so against it."
But a standing offer to play for Head Coach Jim Toman and continued encouragement from Holly Seiz, whom Ryan Seiz cited as a major spiritual influence in his life, slowly changed his mind.
"She told me I needed to come here, that it was unbelievable, and I trusted her and came here," Ryan Seiz said. "It's been the best decision of my life."
Soon, brother and sister were back in familiar, familial territory — playing nearly the same sport, for the same school and with the same name stitched on the back of red-and-blue jerseys. They joke that the similarities are even more apparent off the field.
"Oh my gosh, people mistake us for twins all the time," Holly Seiz said. "We've got the same face."
"Yeah, but we pretty much have the same personality, too," Ryan Seiz said. He paused, staring at his sister, "Which, you know, is honestly kind of scary."
The two burst out laughing at the same time.
Of all the things the siblings share, though, it is their mutual pride and love for each other that outshines the rest.
"I love going to her games, and it's just awesome knowing I have my sister here to support me," Ryan Seiz said. He shrugged, smiling at Holly Seiz, and added, "It's a special bond we've always had together. We're best friends."