Set for nationals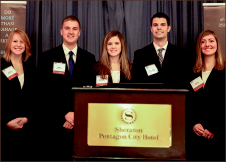 Liberty's HR team won first place in a D.C. competition
Following six months of practice and preparation, the Liberty University Human Resources (HR) competition team won first place in the 2014 Southeast Regional HR Competition in Washington, D.C., March 14-15.
For placing first, the team received a $2,500 check to use as they travel to the National Society for Human Resource Management annual conference in Orlando, Fla., in June. According to HR competition team coach Dr. Colleen McLaughlin, the conference will give students exposure to approximately 15,000 business professionals, and they will have the opportunity to listen to various speakers including Laura Bush.
During the competition, team members Jessica McIntyre, Johnna Ehlert, Adam Miller, Kimberly Higgins and Christian Gravatt were given four hours to analyze a business case, develop effective solutions to various issues, write an executive summary, including research, and create a PowerPoint presentation. After this time period, they gave a 15-minute presentation to a panel of judges and received scores based on the multiple aspects. The two teams with the highest scores presented before a new panel of judges and hundreds of audience members the following day.
According to McLaughlin, participating in the competition gives students valuable professional experience.
"The students benefit by increasing their individual knowledge of HR, analyzing strategic business issues, identifying alternatives to address identified business problems and ultimately developing effective and efficient solutions to provide the organization an increased opportunity to achieve sustainability," McLaughlin said.
In addition to academic and professional benefits, team captain Christian Gravatt said he valued the opportunity to grow closer to his teammates over the months leading up to the competition.
"When you spend so much time with a group of people, enduring some of the struggles we did, a deep sense of community is formed," Gravatt said. "I'm positive (that) someday I'll be sitting on my porch in a nice rocking chair, telling friends and grandchildren about this awesome experience and how God used our imperfections for his glory."
As team captain, Gravatt's responsibilities included scheduling practices, acting as the liaison between the team and McLaughlin and ensuring they maintained focus during the competition. Gravatt said the team worked on a four-hour case study and gave practice presentations twice a week beginning in October to prepare for the competition. Through practices, the team worked together to overcome obstacles and learn from each other's strengths and weaknesses, according to Gravatt.
"The most memorable part was looking back and seeing how each and every team member tackled his or her own individual weakness or struggle," Gravatt said. "The opportunity for God to use our weaknesses and struggles to display his love and truth is utterly amazing, and then for it to actually happen is surreal."
Gravatt said the victory would not have been possible without each team member's dedication, McLaughlin's sacrifices and service along the way and God's provision.
According to McLaughlin, in order to participate in this event, Liberty students must major in human resource management and complete part of the program before team practices begin in October.
For more information about the Society for Human Resource Management and the HR competition team, contact McLaughlin at cmclaughlin@liberty.edu.