Score composed in new program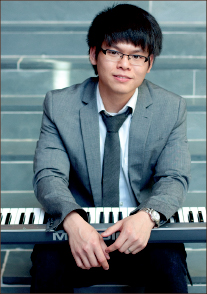 Bryan Tang's composition, 'Valor,' is inspired by Colossians 3:23-24 and being triumphant and close to the Lord
Liberty University is allowing students to explore their passion for music in a new way starting in the fall of 2014 through the art of composing music for films.
According to Dr. David Schmal, associate professor of commercial music, the new movie and scoring program will allow students to obtain a bachelor's degree in commercial music with an emphasis in film scoring. Schmal explained that starting next fall, students with this major will study different styles of commercial music, film composition, television composition, media techniques and even study about video games.
This year, the classes were introduced to the program as private lessons before the program becomes an official degree. Schmal said there are about 15 students participating this semester. One of these students is senior Bryan Tang.
Tang has been writing musical cues this semester, which are typically short clips of music found in films. His piece, titled "Valor," is an action cue that was performed in early March by the Liberty Symphony Orchestra. Tang had to compose the music for every orchestral instrument. Tang and Schmal, Tang's song writing professor, had to get "Valor" together in a very short time frame. According to Schmal, the quick turnaround is typical of the film business.
Tang said the song was about being triumphant and having closeness with God, which shows valor and courage. For inspiration, he listened to other musicians and read scripture. Colossians 3:23-24 especially encouraged him, as this passage talks about working for the Lord and not for men.
"You are to put your mind on things above, but in a sense you are still living here," Tang said. "But because of your perspective, you want to do the best for the Lord, and that is my heart behind it."
According to Schmal, writing movie cues is leading the students into bigger things, such as being able to team up with the cinematic arts department to pair musical cues with visual clips.
Tang is now teamed up with cinematic arts student Daniel Yee, who is directing a film called "Pacific Dreams." Tang and Yee are both from Malaysia and met each other at Liberty. Tang is working on writing approximately five cues for "Pacific Dreams."
"It's a great way not just to study film music, but to have something practical and actually have the opportunity to do it, not just to talk about it," Schmal said.
According to Tang, he did not learn any theory or have any musical training before coming to Liberty. Everything he has done is the result of his theory and orchestration classes.
"I think our program is unique," Schmal said. "It is unique in most music schools throughout the United States because we put together a way of teaching theory that involves something called praxis, so when you learn something, you then practice it and you apply it."
Schmal noted that this method of teaching especially helps students like Tang, who have not had an extensive musical background, to learn and apply the material and give them the tools they need to succeed.