'Most delightful,' Mary Poppins takes stage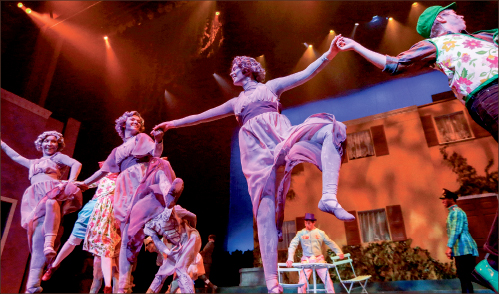 Mary Poppins walked, umbrella in hand, onto the Tower Theater stage April 11 and lit up the room with song and dance in Alluvion Stage Company's first Disney production since Tarzan.
According to Liberty's website, the show based on the books by P.L. Travers and the classic Walt Disney film will be showing through May 11.
"The shows we perform are decided as a department, but Mary Poppins was offered to us (by Music Theatre International) after we did Tarzan," Linda Cooper, artistic director of the Alluvion Stage Company and Liberty's Theatre Arts department chair and associate professor, said.
Cooper thought the cast's first rehearsal of Mary Poppins was amazing and is excited to see the audience's reaction to each show.
"It's so full of life and color," Cooper said. "The audience will love the big musical numbers that they know so well."
According to Alluvion's website, Catharine Kay, a Shenandoah Conservatory alumna, is filling the role of Mary Poppins.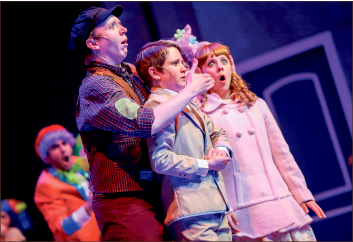 "I have never worked with her before, but she blew me away," Cooper said. "She was Mary Poppins as soon as she opened her mouth."
Cooper said she has also been excited about Carson Burkett, a Liberty alumnus filling the role of Bert.
Although the lead role of Mary Poppins will be played by someone from outside of Liberty, the show will feature many Liberty graduates.
"I think it is important to have Liberty alumni (in the shows), because it keeps us connected to each other and to our mission," Cooper said.
According to Liberty's website, the Department of Theatre Arts holds to its purpose of developing observant, sensitive theatrical artists who, with skills, training, knowledge and professional attitudes, can glorify Christ through their craft and the testimony of their lives. Alluvion also works with Liberty to promote the students' talents and uphold Liberty's mission through theatrical arts, according to Alluvion's website.
Cooper said she sees the importance of the professionalism and skill of the actors as being vital to their careers as well as being their duty to God to share the gospel. She believes Mary Poppins has been a great way to push the cast and crew in their abilities.
"If you aren't any good, then no one will want to listen to your testimony," Cooper said. "We tried very hard to raise the bar of excellence in all areas, including music, dancing, lights and costumes."
According to Cooper, the performance of Tarzan accomplished the goal of excellence and resulted in the offer of performing Mary Poppins. Other shows have been offered as well, including Disney's The Little Mermaid, which will be premiering Sept. 5.
For more information on current and future shows, visit alluvionstage.com or call 434-582-2078.