Military spouses fellowship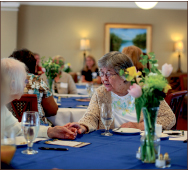 Women gather at the Hancock Welcome Center for games and a bit of fun
The Liberty University Office of Military Affairs hosted its third Military Spouse Brunch at the Hancock Welcome Center Saturday, April 5.
The event provided fellowship and food to approximately 20 women whose husbands are in the military. As the spouses enjoyed brunch, keynote speaker Soledad Moore provided advice for the wives. Ashley Eskridge, the Office of Military Affairs outreach coordinator, said the event has grown since its start.
"It is awesome to see how each time we host this event, it just continues to grow," Eskridge said. "We started off with having it once a year, and now we have it twice a year."
As the morning began, the wives played an ice-breaker game, and then they went around to each table in order to match characteristics they had with other spouses. The first one to match five characteristics with another spouse received a prize.
Among the guests at the brunch were women who were recognized for their marriages of 64 and 66 years. Eskridge acknowledged these women before introducing Moore, as the rest of the spouses applauded.
As the spouses got to know one another, Moore went around and talked to women at each table. Moore, the wife of retired U.S. Marine Corps Maj. Dr. Barry Moore, shared a little of her story with different wives.
Moore, whose husband is also the vice president for Outreach and Strategic Partnerships at Liberty, encouraged the wives to remain strong as they support their husbands as she spoke to them as a whole.
"I know what it is like, and I am sure the rest of you know the exact same thing," Moore said. "The husbands are gone. We have the house to deal with and everything at home. It can be overwhelming, but we have a choice."
Moore said being the wife of a U.S. Marine Corps officer helped her experience different parts of the world.
"One thing I was excited to see in the United States was the Statue of Liberty," Moore said. "So (my husband) took me."
As a military wife, Moore said she and her family moved often.
"I made up in my mind that I was going to keep myself busy and keep moving in spite of everything," Moore said.
According to Moore, she and her husband joined the U.S. Marine Corps scholarship foundation, which provides scholarships to children with parents in the military.
"You have probably been to events like these and joined foundations such as these," Moore said. "These helped me build relationships and get connections."
Moore and her husband have three children, one of whom is a current U.S. naval officer. She said that being a mother developed strength.
"One thing I had to have was courage," Moore said. "A mental strength was definitely needed, especially with kids. All and all, I learned that you have to grow where you are planted, and be happy where you are at. Self-motivation brought me a lot of happiness."
According to the Office of Military Affairs, another brunch will be hosted during the fall semester.