Legend's daughter 'Kelly tough'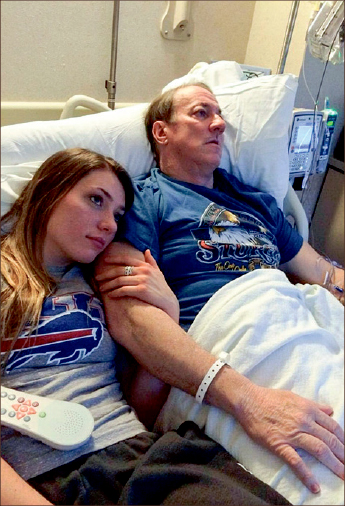 Freshman Erin Kelly, daughter of NFL Hall-of-Famer Jim Kelly, relies on faith as family faces medical troubles
For the past four weekends, Liberty University freshman Erin Kelly has boarded a plane bound for New York City. Each Thursday night, she packs some homework and anything else she might need for the trip and returns three days later, ready for class Monday morning.
These weekend getaways are not for sightseeing or exploring the big city, though. Instead, Erin spends her weekends with her parents, visiting her father in the hospital.
To Erin, the man she visits every weekend is just "dad." But to Buffalo Bills football fans, he is Jim Kelly, the Hall-of-Fame quarterback who led his franchise to four straight Super Bowl appearances.
Jim was first diagnosed with cancer in June of 2013. According to an article by Sports Illustrated writer Peter King, doctors soon decided to remove a cancerous portion of his jaw, and he returned to life as usual until learning in early March that his cancer had returned, this time in the form of many small tumors located near a nerve in the back of his head, which are threatening to move to his brain.
Erin's father, who used to take punishing hits from professional linebackers and defensive linemen for a living, is faced with an uphill battle, this time against his own body. He still has a long road of treatments ahead, but he and the rest of the Kelly clan holds a positive outlook.
There has been no shortage of support for the Kelly family since Jim's original diagnosis in June of 2013. The hashtag "PrayersForJK" took social media by storm after both of his diagnoses, especially among Bills fans and NFL followers. Now, the hashtag has become both a rallying cry for the Kelly family and a reminder of the God in whom they believe wholeheartedly.
"First round of chemo. DONE," Jim's wife, Jill Kelly, tweeted Tuesday, April 8. "Be glorified even in this Lord! #PrayersForJK."
One picture in particular that Erin posted to her Instagram, Twitter and Facebook accounts showed her how much people were interested in her family's well-being. The scene was simple, yet profound. Erin, sporting a grey T-shirt with a large Bills logo, lay next to her dad in his hospital bed as they watched a Syracuse University basketball game on television. In just a few days, the picture began popping up next to countless articles about her dad, a poignant reminder of the human side of professional athletes.
Erin's love for sports always connected her with her father. It was only natural, considering his line of work. Whether it was swimming, softball or basketball, he was almost always on the sideline.
"I'd be on the court playing, and I could hear him from the sideline saying, 'Box out!' or 'Post up!'" Erin said. "So he is the best coach I could have ever asked for."
After every hard foul drawn or poor decision made, Jim was always in his daughter's ear with a word of encouragement.
"You have to be Kelly tough," he would always say. According to Erin, the Kelly tough motto comes from her father's childhood. What attribute other than toughness could have come from Jim growing up with five brothers?
Even though the Kelly tough tradition began long ago, the real Kelly toughness had not begun until Hunter James Kelly came along.
Born a few months before Erin's second birthday, Hunter was diagnosed with Krabbe Disease only months after birth. According to the Mayo Clinic, Krabbe Disease is a type of leukodystrophy, a rare genetic disease that affects the central nervous system. There is no cure.
Krabbe Disease manifests itself in many ways, but for Hunter, breathing was difficult. Vision deteriorated, and physical therapy was an everyday necessity. Not long after his diagnosis, the Kelly family opened their home to a team of caregivers, which also became known as Team Hunter, in order to help provide the round-the-clock care he needed.
Even though Hunter could not speak, the family taught Hunter to communicate in other ways, such as blinking once for "Yes" and three times for "I love you." Jill would go on to share the story of "Hunterboy," as the family affectionately called him, in a New York Times bestselling book titled "Without a Word."
"I remember everything," Erin said. "I remember just hanging out with him and playing with him and just being his big sister. I also remember times just watching him struggle, because he struggled every single day of his life."
Jill's book includes numerous entries from her personal journal and memories from Hunter's life. Though the Kelly family was often stressed almost to its breaking point, nearly at the expense of Jim and Jill's marriage, their intense love and care for Hunter never faltered.
As Jill and the rest of the family coped with the knowledge that Hunter would someday die from Krabbe Disease, Jill found herself relying on God to get through the heartache, documenting her conversations with both God and Hunter in her journals.
"Though he struggled, he brought so much joy to our family," Erin said. "This disease was killing him, yet he was bringing so much life to our family."
Although Hunter finally succumbed to his disease Aug. 5, 2005, at eight years old, the memory of him lives on through Hunter's Hope, an organization created by Jim and Jill to give hope to other families affected by the disease. The organization not only seeks to provide a support system for families, but it also works to combat the disease through newborn screening and researching for a cure.
Erin was only 10 years old when her brother died, but his battle with Krabbe Disease led her to major in exercise science at Liberty, with the goal of pursuing a career in physical therapy for people with incurable diseases like Hunter's.
"We watched him fight every single day of his life, and he is the strongest person I've ever met," Erin said. "I can say that without a doubt. He is the strongest person I've ever met. So now, I look at my dad, and he's the second strongest person I've ever met."
That signature Kelly toughness remains engrained in each one of the family members, but things have been especially difficult for Erin and her sister Camryn, currently living with her grandparents as a high school student in Western New York. For the time being, Jim's medical needs require both he and Jill to live in New York City full-time.
According to Erin, she has been able to deal with the distance by leaning on a support system of friends at Liberty that might not have come together if she had chosen another school. One of those close friends is someone she describes as a "second mother," Liberty Athletics Sport Nutrition Specialist and Strength and Conditioning Coach Donna Barber.
Donna struck up an immediate friendship with the Kelly family, Jill in particular, in the fall of 2013. Gayle Gill, wife of Liberty Flames Head Football Coach Turner Gill, invited the visiting Kelly family to watch a football game in a suite with Donna's husband, Athletic Director Jeff Barber. Donna said the connection between she and Jill was almost immediate.
Half a year later, Donna and Jill talk multiple times a week, and Donna talks with Erin almost every day. Erin said caring people at Liberty have been a key to dealing with hard times, but Donna said faith has been paramount for both Erin and the rest of her family.
"I don't mean to simplify things, but I know it's their faith," Donna said of the Kelly's source of strength. "God is so real, and they feel it every day."
Another example of Liberty's support for the Kelly family arose in early March of 2014.
Erin and Jill were on a spring break trip to Israel organized by Liberty when they learned Jim's cancer had returned. According to Erin, the group began to pray for her entire family, something that impressed both Erin and Liberty Senior Vice President for Communications Johnnie Moore, one of the leaders of the trip.
"It was amazing to watch the team rally around (Erin and Jill) and even more amazing to watch how strong their individual faith was in spite of their personal crisis," Moore said. "These folks love Jesus and believe and trust in him like few people I have seen."
Now that Jim has begun his treatments, the Kelly family anticipates rough going as the champion of Kelly toughness fights through chemotherapy and radiation treatments intended to diminish the size and number of tumors before surgery can become an option. But according to Erin, if the Kelly family can take away one positive from his situation, it is their increased ability to share their faith with others in response to the attention Jim has received.
Yes, each member of the Kelly family still believes in the family motto. But each of them is quick to admit the real source of their Kelly toughness — a source that neither cancer, nor Krabbe disease can touch — is their faith in God.