Fighting for justice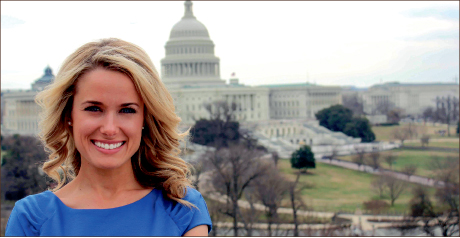 Alison Howard is a voice for women's and family rights at Concerned Women for America
Liberty University alumna Alison Howard is rising for the cause of pro-life and pro-family issues as she battles the "war on women" and stands for limited government in the interest of women and American families, according to cwfa.org.
Howard was inspired to join Concerned Women for America (CWA) after doing an internship with the organization through the Washington Fellowship during her senior year at Liberty.
"I loved being a voice for young women in America through this organization," Howard said.
Howard said her internship experience developed her love for CWA, and she soon became heavily involved in the media. According to CWA's website, Howard has appeared on Fox News, The Blaze, The Christian Broadcasting Network and in World Magazine.
"Educating others (on public policy issues) has shown me the reality of how you can protect life by promoting life-affirming principles," Howard said. "I am on the side of truth. I am on the side of life."
Howard's work for the organization now affords her the opportunity to serve as the CWA communications director, as well as to lead CWA's Ronald Reagan Memorial Internship Program, according to CWA's website.
Howard is also responsible for all internal and external communication for projects promoting awareness and action within the organization.
"There has been such a heavy moral decline in our nation," Howard said. "This is why it is so important to make our cause relevant."
There has not been a day where the organization's endeavors were not covered by prayer, she said. And according to CWA's website, the organization has prayer/action chapters to accomplish this goal.
"Our prayer/action chapters are state level, and the name alone encompasses everything CWA is about," Howard said. "We have weekly staff meetings that last for an hour."
According to Howard, CWA's prayer is that the organization will be effective in impacting the world with biblical principles while focusing on seven specific policy issues — sanctity of life, defense of family, education, religious liberty, national sovereignty, sexual exploitation and support for Israel.
"Public Policy affects everyone, not just women, and that's the message CWA desires to get across," Howard said.
Due to CWA's commitment to change, the organization is now the nation's largest public policy women's organization with 500,000 members.
According to Howard, one of CWA's recent campaigns took place March 25 in Washington, D.C., near the organization's headquarters. CWA rallied in support of Hobby Lobby on the steps of the Supreme Court.
To find out more information on how to get involved in the movement of change across the nation through CWA, visit cwfa.org or contact CWA at 202-488-7000.