Concert encourages students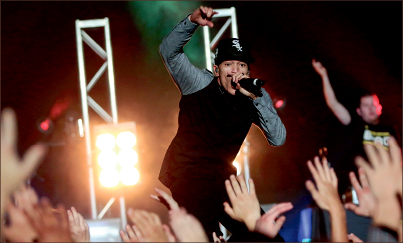 Tedashii, Trip Lee and Christon Gray urge students to keep God at the center of their lives every day
The crowd fell silent with anticipation as the lights in the Vines Center dimmed for the Tedashii, Trip Lee and Christon Gray concert hosted by Student Activities (SA) Saturday, April 12.
Fans surrounded the stage and screams erupted as the performance began. Gray opened with "Long Way Down" and immediately had the audience involved. Whether clapping, snapping or raising hands in the air, Gray encouraged everyone to focus on God and give him glory.
"As Christians, we need to stop being so serious about ourselves, because that is when we take him (God) more seriously," Gray said.
Concert attendee Mary Beth Barnes said Christian Gray was her favorite artist at the concert. Barnes came to Liberty University for College for a Weekend and appreciated the opportunity to listen to rap music that focuses on glorifying God.
"I've always wanted to go to a rap concert, and it is really cool that there is Christian rap that I can enjoy," Barnes said.
When Tripp Lee took the stage following Gray's performance, nearly the entire audience rose to its feet. Red and yellow lights danced around the room as Lee performed popular songs, including "King Like Mine" and "One Sixteen." He moved rapidly across the stage as he rapped and shared the gospel, paving the way for Tedashii's performance.
As soon as he took the stage, Tedashii began rapping and made sure to communicate the purpose behind his music.
"I like rapping, but I want to keep the main thing the main thing," Tedashii said. "Jesus is the main thing."
The crowd danced and cheered as Tedashii rapped and beat boxed from the stage. During his performance, he pulled one audience member on stage to rap on the spot.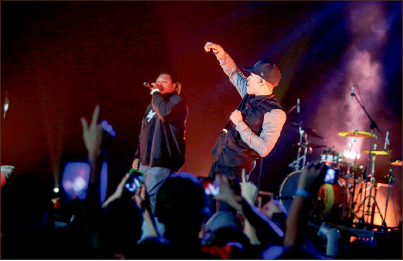 Tedashii performed "Dark Days, Darker Nights" and "Fire Away," two songs from his album "Below Paradise," set to release in May 2014.
He stopped between songs to share pieces of his story with the audience. Through song and speech, his resounding message was "You (God) must increase, and I must decrease," as he stressed the importance of following God faithfully in the midst of persecution and difficult circumstances.
Tedashii then took audience members on a trip down memory lane as he brought back some of his older hits. "I'm a Believer" and "Envy" sparked intense energy, as groups from across the room began dancing to the beat of the music.
As Tedashii ended the show with "Bravo," the energy throughout the Vines Center increased.
According to sophomore Liberty student Andre Beckles, the finale was particularly memorable.
"During the finale, the music was louder, and the crowd was more engaged," Beckles said. "It felt like a home environment where you belong."
This vibe lingered as the performance ended, and some people were still rapping as they left the building and headed back to their dorms.
To find out more about future SA events, visit liberty.edu.