Anderson campaigns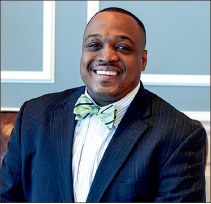 Dean of students runs for Lynchburg City Council
Keith Anderson, Liberty University dean of students and pastor of HiliFavrd Ministries, has been fighting to run in the May 6 election as an independent for Lynchburg City Council.
Anderson is no stranger to serving and taking on a leadership position, he explained. He spent 15 years as a military officer and has been pastoring for more than 21 years. But he has not been ready for campaigning for City Council until now, as the past two years of his life were shaken by the death of his daughter, Stacia Nicole Anderson, in January 2012.
"I'm just now getting to the point where my life is stable enough to return to my natural personality of community service at work," Anderson said. "So when I looked down, and I saw an opportunity to be a part of helping advance Godly principle and really come alongside in helping citizens of this community, I thought this was a perfect time to continue what I've always known, and that is helping people."
Anderson said economic growth is his No. 1 goal for Lynchburg. He also wants to find ways to promote small business vibrancy.
"The measures that I would take to keep (small businesses) is to keep taxes low. … We have one of the highest food taxes in the nation, and that is all in an attempt to generate revenue for (the) municipality," Anderson said. "I think that if we had a more vibrant local economy, we have more people in a tax pool, and we won't have to have such a high tax rate in order to generate the revenue needed to provide general services to the municipality."
Student education is another issue that Anderson, who served for six years on the Lynchburg City School Board, is passionate about. Anderson attributes a large part of his increased investment in Lynchburg's students to his daughter.
"The passion through which I engage life now is to not allow her memory to die and reinvesting myself in the success of students, regardless of their age group," Anderson said. "Especially to the Lynchburg city children, I have a lot of love. I have a lot of fathering experience that I don't have the benefit of pouring out on one child. … I have a vested interest in the success of those young people. And much of that is fueled by my faith and by the love that I have to share for my daughter who is no longer with me."
According to Anderson, he wants the people of Lynchburg to know that he is not just Liberty's candidate, but he has the interest of the entire city in mind.
Integrity is a large part of his campaign. Anderson said he believes the attraction to his campaign comes from voters who know his story and have a personal connection with him.
"Those who know me and know my work have been totally supportive," Anderson said. "The people that I personally come in contact with who know my personal integrity, who know my history, who know my stance on promoting business, who know my stance on addressing social issues such as improving education and student achievement, they are the ones who are supportive."
According to Anderson, the biggest struggle in the campaign is the lack of resources and delivering his message to the roughly 77,000 people who live in
Lynchburg.
"I have the desire to reach as many people as I possibly can, but because I run as an independent, I don't have the political endorsements and resources in order to have the propaganda and those types of things," Anderson said. "The challenge is helping communicate my message."
Schea Communications founder Isaac Schea, who is involved in Anderson's campaign, said he believes Anderson's biggest obstacle is the fact that he is a newcomer to this type of election, as he has never run for office before now.
"Where some of the other candidates that we are running against are experienced and have had some prior campaigns that they've worked with or have been a part of, this will be Keith's first rodeo," Schea said.
According to Anderson, his position on City Council would not affect his role as dean of students at Liberty University, as the meetings for City Council are only twice a month.