A slobbering success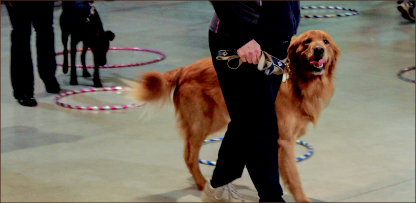 Event raises money in support of Lynchburg Humane Society
On the rainy Saturday afternoon of March 29, more than 60 dog owners attended Lynchburg Humane Society's Slobberfest at Boonsboro Ruritan Club in order to help raise money for the organization.
Dogs of many shapes, sizes and breeds, from Mastiffs to Chihuahuas, competed in games like Snoopy Says (a canine version of Simon Says), Musical Chairs (with hoops), Tennis Ball and Frisbee Toss and an Agility Course, among other events.
This is the second year that the Lynchburg Humane Society has held the event, according to Kim Haywood, development and outreach manager for the Humane Society.
"Attendance has doubled since last year," Haywood said. "We definitely plan on doing it again."
According to the Lynchburg Humane Society website, the Petco Foundation was the title sponsor of the event, but many other organizations sponsored Slobberfest as well.
"I thought the event was extraordinarily successful," Makena Yarbrough, executive director of the Lynchburg Humane Society, said. "With the weather being what it was, we were a little nervous, but I was pleased to see this many people coming out."
The Boonsboro Ruritan Club allowed for most of the events to occur indoors, an option that was not available at last year's Slobberfest, which was held at Peaks View Park.
The Lynchburg Humane Society is striving to become a no-kill organization, according to Yarbrough. The save rate for Lynchburg Humane Society last year was 92 percent, which is up from 73 percent in 2009, according to the organization's website.
"Events like this help us support our no-kill mission," Yarbrough said. "It helps support the programs and enables us to save the animals that we help and we care for. We are at about (a) 92 percent (save rate) right now."
Though the total amount of money raised has yet to be tallied, the Humane Society had raised more money going into the event than the total amount raised at last year's Slobberfest, according to Yarbrough.
The Lynchburg Humane Society has many opportunities for volunteer services, and approximately 45 percent of the volunteering at the Humane Society is done by Liberty University students, who can receive Christian/Community Service credit, according to Haywood.
"We love having the Liberty students coming in and volunteering," Yarbrough said. "There is a real surge when they are in town to come and help us in these events, to help walk dogs, to help socialize cats, to help clean. I mean, they do everything in our shelter."
For more information on the Lynchburg Humane Society's future events or how to become a volunteer, visit lynchburghumanesociety.org.