Spring into ministry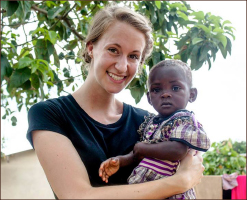 Students serve nations
Hundreds of Liberty University students called a foreign country home for the week as they spent spring break ministering to people around the globe.
Liberty's Center for Global Engagement (CGE) sent eight teams on trips around the world March 10-14, including destinations such as Bosnia, Ghana, Japan, the Philippines, Spain, Thailand, and undisclosed locations in the Arab World and the Pacific Rim.
In addition to these short-term service trips, CGE also sent a study tour to Israel. The tour was co-led by Johnnie Moore, senior vice president for communications, and Dr. Ben Gutierrez, administrative dean for undergraduate programs.
According to CGE, the nine teams provided students with the opportunity to engage with other cultures and to experience the world's diversity first-hand.
Brianna Nissen was one of 11 team members who spent her break serving in Ghana. While there, the team worked in local African churches and provided basic medical care in
six villages.
"Ghana was amazing, and I loved every single part of being there for a week," Nissen said. "The people captured my heart, and I will never
forget them."
Nissen fondly described the Ghanian people she was able to work with as family.
"One night on the trip, the team and I helped with an evangelistic outreach with the Ghanaian people," Nissen said. "We were able to worship with them and pray with them that night. The most beautiful thing about it was that it was dark, and we couldn't see much of anything but outlines of each other. I loved this, because we were not separated as 'white people' or 'black people' or 'American' and 'African' but as people and fellow believers."
In addition to medical work in Ghana, students also hosted literacy classes for immigrants in Spain, helped with disaster relief work in the Philippines and taught English to students in the war-torn nation of Bosnia.
According to Brandon Pitzen, the study tour to Israel was "an indescribable trip that can only be experienced in person." While there, students visited historical sites and volunteered part of their time to serve in a home for disabled children.
Students who participated in the various global teams were left with a sense of awe at the work that God is doing around the globe.
"God taught me that the Holy Spirit is the same here as he is in Ghana, as he is anywhere," Nissen said. "It was beautiful for me to see that even though there was a language barrier, … the people would often leave looking happier than when they came to us. For me, it taught me that love and Christ are universal and can be understood no matter where you're from or what language you speak."
CGE will send eight global teams to serve around the world this summer. For more information on global teams, visit liberty.edu/
globalteams.