Softball takes two of three games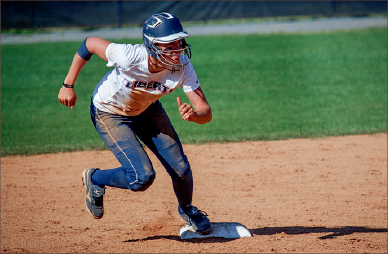 Lady Flames set their sights on East Tennessee State after winning their first series of the season
Liberty University's softball team won two of three games against the North Carolina Central University (NCCU) Lady Eagles March 21-22.

LU 9, NCCU 0
In the first game, the Lady Flames used great play behind the plate and in the field to notch a 9-0 win Friday, March 21.
The Lady Flames were able to capitalize and score runs when they had players in scoring position, and they were able to get productivity from the bottom of their lineup.
In the first inning, Liberty had two players on base, and senior infielder Sammi Shivock hit her first home run of the season to give the Lady Flames a 3-0 lead.
Later in the third inning, Liberty was able to combine hits and take advantage of poor infield play from the Lady Eagles to get in scoring position. First baseman Hanna Nichols then drove in both players to give the Lady Flames three more runs and bring the score to 6-0.
In the fourth inning, Liberty third baseman Megan Robinson hit a three-run home run, increasing the Lady Flames lead to nine runs.
Annah Jo Brittingham pitched a complete game shutout, allowing only two hits and three walks.
"It was great to know that my team was behind me giving me run production, and that makes me feel so much more confident in the circle," Brittingham said.
Although Liberty has had a tough season so far, Head Coach Dot Richardson explained that the goal in every game is for the players to get better.
"(I want the athletes to say), 'I want to be exactly where I am. I've got a passion for this game. I want to show the gifts that God has given me. I'm removing all doubt, and I am just going for it,'" Richardson said.
LU 4, NCCU 0
Liberty lost 4-0 in the second game of the series.
Although Brittingham was able to hold the Eagles to a shutout in the first game, she was not as lucky the second time around. While she recorded six strikeouts, she also gave up four runs off seven hits with only two team errors.
"Being a pitcher, you have to be used to pitching a lot, being tired is not an excuse," Brittingham said. "Some pitches did not work, and (NCCU) just started getting some hits."
Liberty had six hits in 27 at bats, while NCCU had seven hits in 28 at bats.
While both teams had similar batting percentages, only NCCU was able to turn that production into runs.
NCCU scored one run in both the second and third innings to take a 2-0 lead, which they held through the end of the fifth inning. Both scores came off Liberty errors, as NCCU took advantage of the Lady Flames early mistakes.
A two-run home run at the top of the sixth inning allowed NCCU to double its lead over the Lady Flames. After a single to center field by NCCU's Emerie Germ, De'Onn Smith hit a home run past left field.
With the bases loaded and two outs in the bottom of the sixth, first baseman Katie Han had a chance to cut into the Eagles lead. After a series of foul balls, she hit a grounder to third, resulting in a forced out to finish the inning.
In the seventh inning, Liberty got runners to first and second with no outs, but three consecutive outs ended any hope at a come-from-behind Liberty victory.
LU 7, NCCU 5
In the third game, the Lady Flames got the bats going early and clinched a 7-5 victory. Liberty produced five runs in the first innings and jumped out to a 5-3 lead.
Senior infielder Grace Nordan was a force on the mound for the Lady Flames, as she struck out five and only gave up two hits and two runs. Nordan notched her second victory as starting pitcher for Liberty.
The Lady Flames scored a run in both the second and third innings, stretching their margin to 7-3.
The only hits and glimpse of hope for the Lady Eagles came in the seventh inning as they connected at the plate and scored two runs to end the drought.
The strong focus of the Lady Flames allowed them to withstand a comeback attempt by NCCU.
The Lady Flames will host a doubleheader against East Tennessee State Wednesday, March 26 at 2 and 4 p.m.