Snowstorms cause complications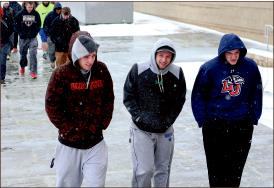 An excess of winter weather in Central Virginia creates difficulty through class cancellations and delays
Although spring usually makes people think of blooming flowers and lively colors, Lynchburg is still experiencing random snowstorms and delayed classes.
The cancellations and delays of Liberty University classes as a result of the snowy weather have been the source of much difficulty for Liberty professors, who have been scrambling to readjust the schedule and syllabus for the remainder of the year, according to Brian Yates, dean of the Center for Academic Support and Advising Services (CASAS).
"When it comes to professors in the class, unlike a K12 school where teachers see their students every day, some classes meet once a week, some three days a week," Yates said.
"And so for professors, they are looking at, 'How can I adapt, how can I get the content that is needed to be delivered to the students now that we have a shortened time frame?' So it really varies, depending on the class."
According to Yates, professors have been dealing with the cancellations in various ways, ranging from adding either a day or a class meeting to the schedule to adding online lectures for the students to pick up information.
"Every situation is a little bit unique," Yates said. "Some professors anticipate that they may lose a day in a semester, and in a sense they kind of build that into the way they have their class structure. Others, there is just so much content (in the classroom), that the cancellations will almost end up placing more responsibility on the student to make sure that they get the work done. Because they don't have the opportunity for that direct face time, the student may need to meet with them after class or during office hours or things like that."
Both students and faculty may have been puzzled by the decision to cancel some days and not others. According to Jennifer Griffin, executive assistant to Provost and Vice Provost Offices, the decision to cancel classes is a joint effort from Chief Richard Hinkley of the Liberty University Police Department, Human Resources and Dr. Ronald Godwin, senior vice presidents of Academic Affairs/Provost.
Although there have been some late semester cancellations this year, Liberty has dealt with even worse weather in the past. In 2000, Liberty experienced a similar snow of 20 inches, which caused them to cancel classes. This was only the third time they had closed in 20 years, according to an article in the Liberty Champion.
"This semester, it seems like the cancellations have been spread out," Yates said. "A few years ago, around 2007 or 2008, it was like every Thursday we got freezing rain. It seemed like the entire month you could just count on the way the patterns were, that you are going to end up with that. This time it seems spread out a little bit more, so maybe we'll have a Monday, Wednesday, Friday class canceled or maybe a Tuesday, Thursday."
According to Yates, CASAS has mainly been impacted by the way the cancellations have postponed advising appointments.
"We've talked with the advising team if there is any kind of bad forecast to try to reach out with the students, and if the weather is bad, try to reschedule with the snow," Yates said. "I think the key to surviving delays and cancellations, whether it's classes or services you take advantage of, is just good communication and making sure that students are in touch with faculty, and faculty are in touch with students, advisors and tutors, (and) that everyone is paying attention to emails."