Records smashed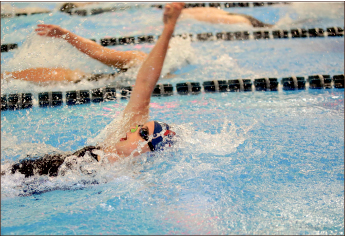 Reinhardt finished 10th in 100 meter butterfly
The Liberty Lady Flames swimming and diving team (9-4, 4-0 CCSA) completed its season Saturday, March 22, placing 43rd at the NCAA Division I Women's Swimming & Diving Championships at the Minnesota Aquatic Center in Minneapolis, Minn.
Four of the Lady Flames, senior Emilie Kaufman, junior Megan Babcock, and sophomores Jess Reinhardt and Kendall Hough, swam in the meet.
Head Coach Jake Shellenberger said this meet was a "tremendous success." According to Shellenberger, Liberty brought the largest number of individual qualifiers to the meet in the history of the four-year program.
The four Lady Flames swam in the 200-meter medley relay Friday, March 21 and became the first relay team out of the Coastal Collegiate Swimming Association (CCSA) to ever compete in the NCAA Championships. The team finished with a time of 1:38:95.
Both Reinhardt and Kaufman found individual success as well. Reinhardt placed 40th in the 200-meter butterfly and 10th in the 100-meter butterfly, which is the highest individual placing in Liberty history. Her success earned her a spot on the All-American team and made her the second All-American in school history. In her final collegiate 200-meter breaststroke race, Kaufman broke the CCSA record and her own school record. She also placed 24th in the 100-meter breaststroke.
Kaufman now holds three Liberty records and was a part of two Liberty-record-breaking relays.
"Emilie is the kind of student athlete that is irreplaceable," Shellenberger said. "She had a tremendous career here in just two short years, and I wish we could have had her for longer. I will remember her incredible work ethic and her attitude. In two years, I do not recall her having a bad practice or coming to the pool with a bad attitude. She was extremely focused and dedicated over the past two years, and it is amazing to see what the body can do when the mind is fully focused over that time span."
Kaufman, along with seniors Brye Ravettine, Sarah McCorkle, Bethany Kennon and Sarah Kendrick have all ended their collegiate careers as Liberty Lady Flames, and Shellenberger said he will definitely miss them all.
"This is the first year that we will graduate women who have been with the program for four years, so it is a bittersweet moment," Shellenberger said. "I love to see them grow and mature as they prepare for the next stage of life, but a part of me doesn't want to lose them either. … I could speak ad nauseam about this class and just how much they have meant to the early success of this program."
Although Shellenberger is losing these athletes, he said he is confident in the team that he still has and is proud of the growth and development he has seen in it. He still has skilled athletes and record holders such as Reinhardt, freshman Heather McCorkel and sophomore Kristen VanDeventer. After witnessing the swimming and diving program's constant, yearly progression, Shellenberger is optimistic and excited for the future.
"Building this program over the past four years has been a challenging, but also very rewarding, process," Shellenberger said. "We owe our success to the women who have sacrificed so much to build it and to our athletics administration and executive leadership here at Liberty who have made the success possible."
"Our goal is simply Liberty's mission with a twist, to train champions for Christ and use competitive swimming as a tool to facilitate that process," Shellenburger said. "… I am a firm believer that sport teaches life lessons such as hard work, dedication, sacrifice and the idea that hard work beats talent when talent doesn't work hard. … I would like to think that we are teaching those values and virtues through competitive swimming and life coaching within our
program."