Jake Holland takes on new role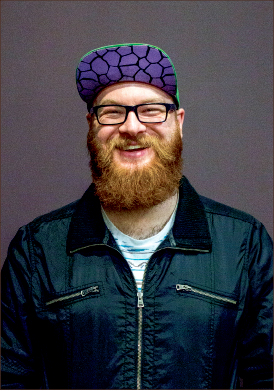 The now Vine-famous Liberty grad and former Student Activities personality currently works as a recruiter for his alma mater
Among Liberty University's 13,000 residential students, there are a few people who are known by almost everyone. One of those people is Jake Holland, more commonly known as the former host of Coffeehouse.
Liberty students may not all know Jake Holland by name, but they might remember his lively personality. He is warmly known as everything from "the funny Coffeehouse guy" to "Waldo with a beard." While his beard may be his most memorable physical feature, students also remember Holland for his boisterous personality and sense of humor.
Holland describes himself as "an extroverted introvert" and "a living, breathing cartoon character." Originally from Hampton Roads, Va., Holland transferred to Liberty in 2009 to study graphic design. He eventually took a job with Liberty Student Activities (SA) and ended up working with the department for the next three years.
"I love people and facilitating events, so the job was a natural fit," Holland said.
Holland's job involved everything from painting promotional easels to working security at concerts. He said that his favorite part of the job was the entire Coffeehouse experience, both preparing decorations beforehand and actually hosting the events.
"It was a fantastic experience," Holland said. "It became more carefree and fun with each one."
He said his favorite of the Coffeehouses he hosted would be a tie between the 80s Coffeehouse in spring 2012 and the Late Night Coffeehouse in spring 2013. If he could choose any theme for a future Coffeehouse, he said he would like to see a superhero theme.
"Videos and skits would be easy, but musical acts would require some creativity," Holland said. "Maybe the Justice League moonlights as a U2 cover band, or Spider-Man playing drums for a folk band?"
Holland said working for SA pushed him out of his comfort zone. While the job was sometimes stressful, he said that he greatly enjoyed it and had a lot of fun.
"It was a much more involved job behind the scenes, much more than most people realize," Holland said. "(It was) stressful at times, but truly a lot of fun."
Holland encouraged other Liberty students to get involved with SA as well. He cautioned that the job may not be for everyone, as it requires large amounts of group collaboration and being creative on the fly. Challenges aside, he said that the experience was definitely a rewarding one.
Holland now works as a national recruiter for Liberty. He travels around the U.S. visiting high schools and college fairs to talk to potential students about his alma mater.
"I love it," Holland said of his current job. "I've been itching to travel for quite a while, which wasn't really possible during my undergrad years."
He said his dream job would be either working with an organization like Passion City Church or hosting a late night talk show.
When he is not working, Holland spends his time going on adventures with his girlfriend, going to movies with his friends and making Vine videos.
Holland encouraged current students to make the most of their time at Liberty.
"Don't sit in your dorm all day and don't stay on campus every weekend," he said. "Get out and see what else the city of Lynchburg and the surrounding area has to offer. It's ridiculous how much students miss out on each semester."