Cafe attracts students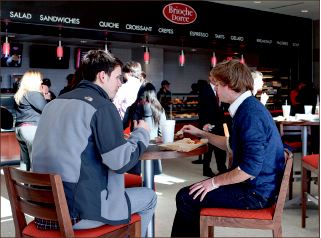 Jerry Falwell Library food court offers increased dining options
Students are flocking to the Jerry Falwell Library, but not necessarily for books. The Tinney Cafe is drawing in the students with its four new dining options, according to Todd Reynolds, Sodexo's retail manager.
One of the dining options, Brioche Dorée, is "a Parisian-style cafe bakery, specializing in French urban cuisine," according to the company's website. Liberty University has the only retail site of Brioche Dorée in the state of Virginia, according to Reynolds.
"Brioche Dorée has some nice sandwiches and salads that are healthy and made with whole grain breads and lots of veggies," Robin Quay, registered dietitian at Liberty, said. "You can choose carefully at Brioche Dorée and get something healthy and yummy."
Reynolds also mentioned the food court's new coffee shop.
"Starbucks is completely new because this is a full store," Reynolds said. "The other Starbucks in the Tilley is much more condensed than a regular retail Starbucks."
According to Reynolds, from a sales standpoint, Starbucks is the most popular retail location on campus. Quay said the best drinks for your health at Starbucks are the non-sweetened ones, such as a latte.
The two other stores in the Tinney are Tsunami Sushi and Pizza Hut Express. Both of these stores were available to students in the Hangar before the Jerry Falwell Library opened.
According to Reynolds, the retail locations in the Tinney Cafe have been successful.
"We have exceeded our sales goals in everything so far," Reynolds said.
The Tinney stores took extra precaution at the opening to ensure good service, Reynolds explained.
"We scheduled extra staff because we knew we would be very busy initially," Reynolds said. "We made sure we had plenty of product in so we didn't have any issues with running out."
Reynolds said there was a little bit of an effect on sales at other retail locations on campus, but since then, everything has gone back to normal, and they have not felt any long-term consequences.
"I think the hype has actually started to die down already," Reynolds said. "We are seeing sales growth in Brioche Dorée, Pizza Hut and Starbucks. We have settled in a slow, growing trend in sales right now in all three locations."
Freshman Brayden Hogan said he enjoys being able to chose from several locations.
"The thing I like the most about the Tinney Cafe is the variety," Hogan said. "If I want to get a full meal, I like the sandwiches at Brioche Dorée, but if I just want a cup of coffee, I go to the Starbucks. I'm in here at least once a week."
According to Reynolds, because the restaurants are in the library, students are more likely to go to them while they are studying.
"I think it is a very convenient location for folks who are coming to do work in the library," Reynolds said. "They can just come downstairs and get something to eat."
For more information on retail and residential dining options, visit libertydining.com.