Blush Network holds conference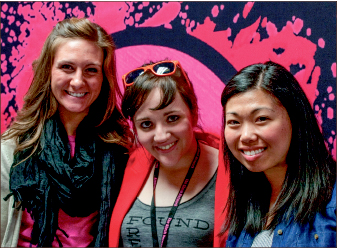 Hundreds of women gather in Towns Alumni Auditorium to worship and focus on freedom found in Christ
Hundreds of women gathered in Towns Alumni Auditorium Saturday, March 1 to attend a day of worship and fellowship with Blush Network.
According to their website, Blush Network exists to spiritually challenge the way young women think and to see them transformed by the power of God's word.
This year's conference was entitled "Freedom Found" and focused on teaching women that freedom exists in Christ. According to Autumn Miles, founder and president of Blush Network, understanding freedom is an issue that most women struggle with today.
"I see this all the time," Miles said. "When I talk to a girl one on one, they are trying to find freedom. Most problems are because they don't understand the concept that they are free. So we entitled (the conference) Freedom Found because I really like authoritative statements. In Christ, we do have freedom. We can entitle it something so authoritative, because we have seen and experienced it."
The conference began at 9 a.m. and consisted of breakout sessions throughout the day, including times of worship, teaching, spoken word and reflection. Speakers included Miles, pastor Cheryl Luke, poet Jenette…ikz and Liberty University's associate professor of women's ministry Monica Brennan.
Miles, who suffered three years in an abusive marriage, said she intentionally created the conference to defy the grain of culture and encourage young women through the heeling she herself received from her hurts and past mistakes.
"I didn't want to do the ministry that was real cushy," Miles said. "Even though I'm a girly girl, I really wanted nothing to do with bringing in a celebrity chef or hairstylist or anything like that, because when I was in an abusive marriage, I didn't need that. I needed Jesus. That was all I needed. I wanted to make a conference that was solely focused on the heart."
According to Miles, Blush Network will host eight conferences and five additional events around the United States this year, only four years after launching with one conference in 2010.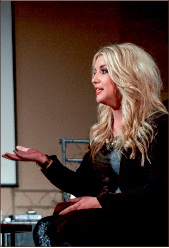 "It's about the heart," Miles said. "That's what it's about, it's about nothing else. If God can get ahold of someone's heart, that's what changes a life. I believe that one person who is sold out 1,000 percent to the Lord can change the world."
Miles, who attended Liberty from 2002-2003, recognizes her time here as having a major impact on the launching of Blush Network.
"I was married at 18 when everyone goes to college, but I didn't do that," Miles said. "After my divorce, I decided to go to college, but I knew I didn't want a secular education. I really wasn't interested in the book studies, I was interested in the Biblical studies department. I wanted to know God, I wanted to know him more and know him deeper. I wanted to be taught. So that's why I came to Liberty, and it changed my life."
According to Miles, there is no greater lie than the devil telling women they are worthless.
"There's a lot to my story, but one of the main things is that my church rejected me when I got divorced," Miles said. "One of the deacons, when they were getting ready to bring me to church discipline like Matthew 18 talks about, looked at me and said, 'If you do this, God will never use you.' And I sat there as this 21-year-old girl who had suffered abuse, and something in me ignited. I almost couldn't believe what he was saying, because that is so counter the Christ that I had just fallen passionately in love with."
Through events like the Freedom Found conference, Miles reminds women of what she herself was reminded of by God: His love and grace are sufficient to cover all unrighteousness.
"The Lord reminded me, 'Remember Noah?'" Miles said. "'Remember David? Do you remember Peter who denied me? I used them. I'm going to use you.' That's what I stand on today when that line that Satan uses still plays in my head. God reminds me, 'Look at who I choose to use: It's those who are available, those who are willing and those who are empty of
themselves.'"