Art expo attracts large crowd
Students enter their works of art in the first Student Activities expo specifically designed for photography submissions
Students gathered in the Tilley Student Center Friday, Feb. 28 to view photos submitted by their peers and to judge the submissions in a photography expo months in the making.
"Each fall we host an Art Expo and the photography category has the most submissions," Stephanie Ward, Student Activities (SA) associate director of programming and promotions, said. "We thought it would fit perfect to showcase photos as their own expo so more pieces could enter."
The expo received more than 60 photo submissions from 36 different students. The subjects of the photos included the human eye, a close-up of the recent snow, a water droplet displaying a rainbow of colors and a green tree frog.
The exhibit was set up on the stage in the Tilley Student Center on the night of the event. Framed photos were hung on a collapsible wire fence with a white sheet behind it.
Spotlights overhead helped to draw attention to the exhibit. Flowers in glass vases and piano music playing in the background gave the exhibit an artistic and professional feel.
The exhibit drew quite a crowd through the course of the evening. Students wandered freely through the exhibit with their friends as they discussed the various photos and pointed out their favorites. Some even took their own pictures of the exhibit.
Off the stage, SA had set up an area where students could have their picture taken under a sign that said #SAexpo. The station included a variety of hats for students to don as well. Refreshments, including lemonade and cookies, were also provided.
Judging for the photos took place via text message. Students were given a number and keyword to text. They were then asked to respond with the number of their favorite photo. Voters discussed the decision with their friends as they waited for the winner to be chosen.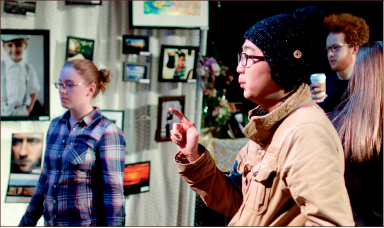 Many of the photographers were also present, waiting to see if their submissions would win. One such photographer was Lauren Adriance. She took some photos of her entries hanging in the exhibit before showing them to the friends who came to support her.
Shortly after 10 p.m., the winners were finally announced. Third place went to Ephraim Harrell for his photo "The Bottle." Second was awarded to Adriance's entry "Young Lad," and her friends greeted the announcement with cheers.
The first-place award went to Breanne Steindel for her photo entitled "Frozen." She won $150 from B&H Photo, a company that sells professional gear for photographers and videographers.
"There is so much talent of different kinds at Liberty, and we want to showcase that," Ward said. "We hope that an event like this can bring people together that have similar interests and they build relationships that unify the student body."