'Ring by spring' in a new light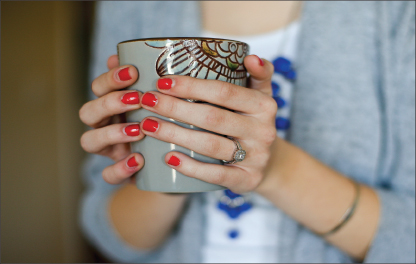 There are many details to consider and a lot of research to do when picking out a new engagement ring
Within the hands of a man on bended knee sparkles a luxurious clear-cut stone, entwined by a flawless metallic band, welded together to create the perfect symbol of love — the engagement ring.
As February is coming to a close and spring is quickly approaching, "The Ring by Spring" deadline is almost here.
Because the ring symbolizes the promises of marriage made between men and women looking to get engaged, the process of finding such a masterpiece has been described as one of the most difficult tasks in a man's life.
"A lot of research goes into selecting the ring of your respective fiancée's dreams," Biff Bowen, owner of Bowen Jewelry Company, said. "The tradition of selecting an engagement ring is an intimate and complex process which entails many steps, but the most important are figuring out the Six Cs of an engagement ring — certification, carat, cut, clarity, color and cost."
Liberty University graduate student and Liberty University Residential Director Brandon Wirth and his wife Alexandra Wirth began their path to engagement by walking through the doors of Bowen Jewelers, thus starting the ring-choosing process.
According to Brandon Wirth, he had a woman that he loved, the job security that he needed, and a question he wanted answered.
In a moment of spontaneity, Brandon Wirth drove 11 hours to surprise Alexandra Wirth with a ring similar to the one they had seen at Bowen.
"We talked a lot about our future plans and marriage," Alexandra Wirth said. "We knew we were going to get married. It was just a matter of when."
According to Brandon Wirth, he spent roughly 30 hours trying to replicate the ring that his wife saw at Bowen, studying the different specifications of his fiancée's ring through Bowen and various websites, such as online jeweler bluenile.com.
He described the process as challenging, demanding and intense, especially as he worked to subtly gain insight from Alexandra Wirth about the ring she desired.
"Each part of the ring represents a different aspect of your respective fiancée's character, and it is important for a young man to take notice to this," Bowen said. "If the young man doesn't know her taste, then it can hinder his decision in selecting the perfect ring for her."
Bowen suggested Brandon Wirth ask her family and friends for advice, or even visit her Pinterest for inspiration, and Brandon Wirth said he took the advice to heart and actually did look at her Pinterest.
According to Bowen, the ring is more than a mere representation of the institution of marriage. It is the perfect representation of the husband and wife's past, present and future together. Bowen said he believes that alongside the symbols of passion and longevity, each component of the ring represents something more.
"The band represents durability and eternity, as the metal is built to last forever," he said. "The diamond represents life and luxury, as it absorbs light, constantly renewing its clarity and effervescence, and the color represents the character and personality of the fiancée."
Bowen said he believes that when choosing a ring, the man should pay attention to every intricate detail.
Brandon Wirth shared convictions similar to Bowen's when he started the search for his wife's ring. He explained that the engagement ring he picked for Alexandra Wirth had to be a perfect expression of her character and how he felt about her.
"She is worth far more than rubies. I have full confidence in her and she lacks nothing of value," Brandon Wirth said, explaining her character in terms of Proverbs 31. "I knew Alexandra wasn't a material girl, and I knew the ring had to be a perfect representation of her and what she means to me."
Brandon Wirth also had to consider how much he would pay for the ring.
According to Andrew Jones, a former Zales jeweler, an average, full-time working individual normally pays $2,000 for an engagement ring, but engagement rings start as low as $500.
Although Brandon Wirth said it would have been easy for him to quickly spend two months' salary on the most expensive ring in the store, he chose to save for the ring. He said that by spending a ton of money on the ring automatically, the ring would have lost its intrinsic value. According to him, working to save for the ring communicated to his bride-to-be how hard he will continue to work for her.
Alexandra Wirth explained her gratitude at receiving the ring that represented the important vow.
"To receive something like that is beautiful," Alexandra Wirth said. "It's like a promise, where he is betrothing me and I him," Alexandra said. "It is a symbol of his commitment to me."