Odyssey branches out
A band that began as just a few friends with a love for music is now a Coffeehouse regular
Between Open Mic Nights, the Campus Artist Series, and the biannual coffeehouse shows, Liberty offers many performance opportunities that give rise to a variety of student bands. One such band is Odyssey.
Odyssey consists of four members. Jere Essig is the lead singer and guitarist. Tyler Bunzey plays primarily banjo, although he also does a bit of piano, guitar, harmonica and vocals. David Wright is the band's percussionist, and new member Caitie Hurst rounds out the group as a singer and pianist.
Essig and Bunzey, the founders of the band, said they originally met during their freshman seminar class, stayed in touch and eventually decided to form a band together.
"We like music, and we're friends, so why not?" Essig said. "We can have fun and make some memories."
He and Bunzey played their first coffeehouse together in the spring of 2012 along with Jordyn Burton, who is no longer with the band. Their friend Wright joined the group a short time later.
"The first time was nerve-racking," Essig said. "But then it got easier. It's exhilarating, and it's just fun."
The band was originally named Adventures in Odyssey in homage to the Focus on the Family radio drama. According to Essig, they chose the name because the drama was a fun and familiar part of their childhood. The name was later shortened to Odyssey, a reference to Homer's epic poem of the same name.
"When you think about our lives as Christians on earth, we're on this epic journey," Essig said. "It's a story. Odysseus was on a journey into the unknown."
In January 2014, the band added its fourth member after meeting Hurst at a recent show that featured both her band and Odyssey.
"We pretty much stole her," Bunzey said.
According to the members of Odyssey, creative differences that normally make it more difficult for musicians to work together actually contribute to the band's unique sound. Essig and Bunzey described Odyssey's music as eclectic, citing Coldplay, Mumford & Sons, and Ben Rector as the band's musical influences.
"We all have different musical backgrounds and different ideas of what it should sound like," Essig said. "It creates a cool mash-up."
Essig does most of the writing for the band. He said that often a lyric or piece of music simply pops into his head, and he takes it from there.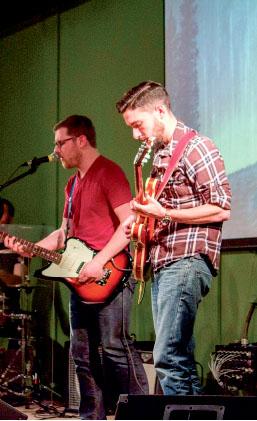 Although the band has only recorded one song, its members expressed interest in recording a full album, but lack the money to do so.
"Recording is expensive," Essig said. "I don't think most people realize just how much."
Essig also added that if Odyssey does record some of their songs, they want them to be good quality and not just something they threw together.
Time is also a barrier to recording, according to Essig, as all four band members have time-consuming majors. Essig majors in biomedical sciences, Bunzey in English and education, Wright in business and Hurst in biblical studies. According to Essig, they simply do not have time to sit in a studio and record a full album.
Even if an album does not materialize, they are not going to stop making music. Bunzey said that they love playing together, particularly at Liberty's biannual Coffeehouse.
"(Coffeehouse is) a lot of fun," Bunzey said. "It's a great creative outlet."
The band played its most recent show Friday, Jan. 30 along with a band called Hemingway at Canvas, a coffeehouse in Lynchburg that frequently features performances by musicians. The purpose of the show was to celebrate the release of Hemingway's first album, entitled "Light Will Follow."
Odyssey members said they are currently in the brainstorming stage of their act for spring Coffeehouse.
Although the band does enjoy playing large venues, such as Coffeehouse, its members still stay committed to its purpose.
"We're not in it to make it big," Essig said. "That means we don't have to care what people think of us or if people like us. We're here to have fun. If just five people come to a show, we're still gonna have fun."