Liberty welcomes Switchfoot
Switchfoot performs fan favorites and songs from their new album "Fading West"
Fans quickly filled the space in front of the stage at Thomas Road Baptist Church (TRBC) at 7 p.m., an hour before the Switchfoot concert began, Friday, Feb. 21.
Student Activities (SA) hosted a concert featuring Switchfoot as one of the main events for the first College for a Weekend (CFAW) of the spring 2014 semester.
The opening band for Switchfoot was the Kopecky Family Band, a group from Nashville, Tenn. According to Markus Midkiff, the band's cellist, TRBC was the second stop on Switchfoot's Fading West Tour.
"(The crowd) was really enthusiastic and really receptive to the music," Steven Holmes, the guitarist for Kopecky Family Band, said. "It has been a dream getting to know (Switchfoot) and just them treating us as equals or as peers."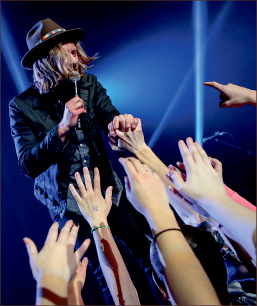 Logan Smith, a prospective Liberty student who has been to four Switchfoot concerts, said he enjoyed listening to Kopecky Family Band.
"They brought a little folk," Smith said. "It gave me a different taste before the harder music. I got a lot more out of it than I thought I would."
Liberty sophomore Rachel Leininger, however, had already been looking forward to watching Kopecky Family Band perform, because she had previously seen them open for Tenth Avenue North.
"I came super stoked to hear Kopecky," Leininger said. "I had seen Switchfoot in concert already, so I wanted to see (Kopecky Family Band)."
When Kopecky Family Band left the stage, the crowd was given a 30-minute break in order to buy refreshments, purchase Switchfoot and Kopecky Family Band T-shirts and CDs and meet some of the Kopecky Family Band band members.
At 9:15 p.m., the lights turned off and the crowd cheered as the members of Switchfoot walked on stage. Lights and lasers flashed on as they began performing their first song, "When We Come Alive."
"I always love Switchfoot, (especially) the lighting they have," Leininger said. "It is always amazing."
Jon Foreman, the lead singer of Switchfoot, made use of the whole stage. While performing, he walked to the front of the stage and shook some of the hands coming up from the crowd in the front. He also climbed and jumped off the drum set. For two of the songs performed, Foreman actually stepped into the crowd as he sang.
"The communal element of music is something I will never get over," Foreman said. "That's why we do what we do."
Sarah Janaskie, a CFAW visitor staying with Leininger, said she attended the concert because she received a free ticket for signing up for CFAW. According to her, she was glad she went.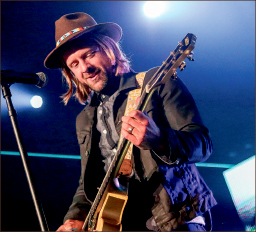 "I appreciate the instruments (Switchfoot uses) and their talent," Janaskie said. "It is always a treat to listen to their music."
Switchfoot performed songs from their album "Fading West," as well as older songs like "Only Hope" and "When I Look at the Stars."
"'Meant to Live' (was my favorite song) because they started out acoustic and ended with electric," Smith said.
According to Foreman, that was the band's first acoustic performance of "Meant to Live" on stage.
"It was written on an acoustic guitar, like most of our songs," Foreman said. "Then it turned into a rock song. So I want to bring it back to the way it
resonated."
Switchfoot ended the night by performing their song "Dare You to Move" from their album, "A Beautiful Letdown."
The band will continue to tour the U.S., with the last performance of the Fading West Tour taking place September 13 at the Awakening Festival in Centreville, Va. Tickets for all of their concerts are available at switchfoot.com.
"If I had to sum up what we have learned as a band in the past nine albums, it would be (that) love alone is worth the fight," Foreman said.