LFSN goes national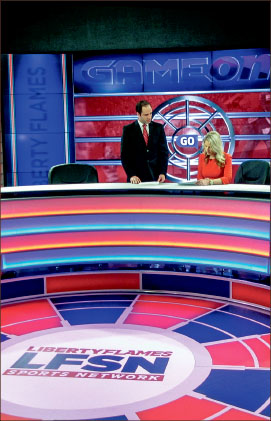 Liberty's new program, 'Game On,' will reach millions of homes
The dream of being like Brigham Young University or Notre Dame University has been a goal for Liberty athletics since day one, and Liberty has furthered that dream through its School of Communication & Creative Arts (SCCA).
Since the fall, the Liberty Flames Sports Network (LFSN) has increased telecast viewership of Liberty's Division I (DI) and club sports with game coverage of football, basketball, hockey and other sports to homes across the nation.
Now, LFSN has its own SportsCenter-like segment.
After a year of planning and preparation, the "Game On" program was unveiled to a national audience Monday, Feb. 3 through DirectTV and Dish Network affiliates. It is hosted by anchors Matt Warner and Lyndsay Keith and is produced by Andy Freeman and Russ Martin. The 30-minute show not only focuses on Liberty sports, but national sports stories as well.
According to Martin, "Game On" will be broadcast to approximately 35 million people across the U.S. through Liberty's flagship station, WTLU.
With a show that is exposed on a national scale, it can eventually help with athletic recruiting, according to Martin.
"Anything you do that brings exposure to the university helps recruiting for the general student population as well as the athletes," Director of Athletics Marketing Kevin Keys said. "In addition, to (be able to) tell a student athlete that you may be on a daily sports show with highlights and stories (gives you) an opportunity to use that as a huge recruiting tool."
According to Keys, LFSN has previously had a weekly, award-winning show. However, the vision has always been to have a daily show.
The show's goal is to enhance Liberty sports on a national scale, and also to allow students from SCCA to have professional exposure, according to Martin.
"We have about a half-dozen students working daily," Freeman said. "We try to get around four to six students (working) and, at the same time, dance around their schedules. Some students work on the field teams, (which) go out and shoot, report or do research."
Although the main focus is to expose Liberty sports, Freeman, Martin and Norman Mintle, the dean of SCCA, hope to broaden Christian viewership.
"We wanted to find someway to (attract) men to look at Christian programming," Freeman said. "When Mintle came here, he saw that we had all of these DI sports. We have great coaches and players. … He said what if we could do a show that focused on Liberty, other Christian teams, and at the top of the show we would talk about the big stories or issues of the day."
According to Freeman, Mintle wanted a segment that showed athletes sharing their faith as well as playing sports.
"We wanted to show people that athletics and faith go hand-in-hand, and that their faith is (just as) important to them on the field as it is off the field," Freeman said.