King backs abstinence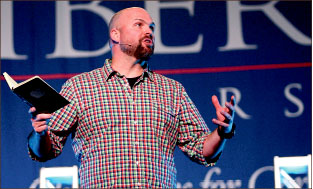 LifeWay re-launches the True Love Waits movement
Continuing the 20-year legacy of encouraging purity and abstinence, Clayton King released a study through LifeWay Christian Resources as a part of their re-launch of the True Love Waits movement last December.
According to LifeWay's website, the project, called The True Love Project, is a video-based Bible study for young adults that examine biblical principles on sex, purity and romance. King, along with his wife, Sharie, was asked to be a part of the revival.
"When Lifeway decided to re-launch True Love Waits for a new generation, they invited me and my wife Sharie to create the new name and the new brand called True Love Project," King said.
King said his connection to the project started before its recent re-launch.
"I began speaking at True Love Waits events 20 years ago when the movement originally began, and I committed myself to abstinence before marriage and fidelity after marriage," King said. "Relationships and sexual purity are topics I have strong convictions about, and I've taught on them consistently, even writing several books
on them."
The movement launched in 1993 with a Tennessee youth group signing commitment cards pledging to abstain from sexual activity before marriage. King said True Love Waits guided him through practicing purity before marriage.
"By God's grace, my wife and I were both able to practice abstinence until we were married and have been faithful to one another for 15 years," King said. "While I was by no means perfect or sinless, and while I still fight for purity now at age 41, I have the tools necessary to submit my body and its desires to the lordship of Christ. That all began when I was 14 years old and was strengthened by the True Love Waits movement."
The True Love Project study includes student and leader kits that contain tools such as interviews and study modules. King said his favorite advice from the study urges young adults to avoid entertaining the invitation of sin and sexual temptation.
"When fighting temptation, you must hate it, starve it and outsmart it," King said. "The best way to fight sexual temptation is to flee sexual temptation. Surround yourself with godly influences — people who share your convictions and beliefs about the gospel and the person of Jesus Christ.
"And when you sin, be quick to confess it and repent and receive the grace and forgiveness that Jesus offers," he said. "Just because you mess up, it doesn't mean you give up," he said.
According to an article by Relevant Magazine, a study conducted by the National Campaign to Prevent Teen and Unplanned Pregnancy reported that 80 percent of Christians have engaged in sexual activity outside of marriage. King said the lack of concern toward the sanctity of sex has contributed to these statistics.
"As our culture has embraced an 'anything goes' mentality about sexuality, women have become objectified, pornography has become an epidemic, child porn and human trafficking have become a global scourge, and 25 percent of all Americans will experience some form of sexual abuse or assault by the time they become an adult," King said. "We are paying the price for how we've cheapened sexuality."
According to King, LifeWay hopes to encourage young Christian adults to strive for purity through honesty and relatable teachings.
"The True Love Project offers hope and help, because it deals with these issues honestly and openly," King said. "It is redemptive. It is practical. It is readable."
King said that, despite the common belief that purity means perfection, he desires to teach young adults the meaning of purity through a biblical worldview.
"I am pure because of my position in the family of God, not because of my perfect performance," King said.