Commuters focus on holiness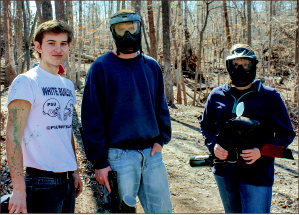 Students learn the importance of community at the Master's Inn campground
Thirty-five Liberty University commuter students gathered at the Master's Inn campground for a weekend retreat Feb. 21-23.
Activities at the event included paintball, horseback riding, a climbing tower, a zipline, team-building exercises, a scavenger hunt and other games, according to Wislaine Dormay, senior Women's Life Skills Coordinator at the Campus Pastor's Office.
"I think it is exciting," the Rev. Dane Emerick, senior campus pastor, said. "This is the first time we have done something like this for commuters."
The Master's Inn started out as a training facility for young pastors in 1974 and turned into a campground that is "designed to reach children, youth and adults for Jesus Christ through Christian camping and outdoor recreation," according to their website.
"We wanted something close to Liberty, but at the same time, we wanted students to feel like they were out of town a little bit," Dormay said. "Master's Inn was amazing working with us."
The campground is located in Alta Vista, Va., approximately 15 minutes from Liberty. The goal of the retreat was twofold, according to Dormay.
"(The first goal was) for students to create a community, to make friends they never would have met if they didn't come here," Dormay said.
Hannah Underhill, an advertising and public relations major, explained how the retreat was a great way to meet other commuters.
"My favorite thing about the retreat was being able to connect with other commuters. That is something that is not very available here at Liberty," Hannah Underhill said. "I like the spiritual aspect here, to be able to connect with brothers and sisters in Christ that you don't get to see a whole lot."
According to Dormay, the second goal of the retreat was for commuters to meet campus pastors so they know who they should go to if they have
problems.
"The kids are getting to know the Campus Pastor's Office, that we are here for them as pastors," Emerick said.
Along with the games and activities, the retreat also included preaching and breakout sessions. According to Dormay, the theme of the retreat was holiness.
"From a pastor's heart, you are looking at what students are wrestling with," Campus Pastor Timothy Voogd said. "We see the symptoms surface themselves in wrong things, bad behavior, whatever you want to call it. We know this, and we continue to say stop, stop, stop and don't, don't, don't."
According to Voogd, the focus of the messages was not on what students should not do but what students should strive to become.
"I'd rather teach my kids than spank them," Voogd said. "It's positive reinforcement, really, and God is the one who originated it."
According to Voogd, there were three themes students talked about in breakout groups: discipleship, pursuit of holy living through God's power and grace versus legalism. Voogd said the breakout groups were fine-tuning students' knowledge of what it is to be holy.
According to Dormay, the Campus Pastor's Office hopes to do the retreat again next year.
"The students love it, and they are asking us to have it again next year," Dormay said. "It has gone really well."