Chocolate shop inspired by the movies
Inspiration meets decadence at Cao Artisan Chocolate, a specialty chocolate shop, located in downtown Lynchburg.
According to the shop's website, the chocolate and other items sold at this small shop is of the highest quality, as it is only made from the finest and most expensive cacao beans on the market, the Trinitario and Criollo beans.
The most common and easiest grown cacao bean is the Forestero bean, which is where 90 percent of the world's cacao comes from, thus making it a typical ingredient in chocolate.
According to shop owners and chocolate connoisseurs Carl and Mary Matice, they believe that chocolate should only be made from the finest ingredients available and seek to only provide customers such products.
"We delight in developing amazing chocolates and pastries without the additives, fillers or junk that makes cacao into candy," Mary Matice said. "We are dedicated to providing products to our clients with transparent ingredients and health conscious development in every step."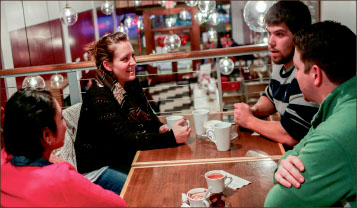 Carl and Mary Matice credit the creation of their speciality chocolate shop to the movie "Chocolat," which, according to imdb.com, was made in 2000 and is about a chocolate shop that reminded a small town how to have a passion for life again.
The couple decided to embark on what Mary Matice calls "a marital enriching adventure" of making cacao into chocolate. Their creation of chocolate began as a hobby and grew into a deep passion that they hold today.
Mary Matice and her husband moved to Lynchburg so that she could pursue her master's degree, but they were instantly charmed with the area and tantalized by the idea of turning their chocolate making hobby into an income. Thus, the Cao Artisan Chocolate shop was born. The name of the shop has a very specific meaning according to Mary Matice.
"(We named our shop) Cao to indicate that we make it fresh from the cacao bean, artisan because we put great care, skill and creativity into every product and chocolate because, well, it is," Mary Matice said.
According to its website, Cao serves various chocolate specialties such as baking bars, chocolate barks and an assortment of truffles. The shop even sells chocolate products that are meant for nontraditional purposes, such as facial bars.
Their facial bars only contain four ingredients: chocolate, cocoa butter, cacao husks, and oatmeal. Chocolate contains caffeine, which firms skin and cocoa butter softens it, according to Mary Matice. Though the bar is completely edible, it is meant to be used as a unique exfoliant that will leave skin smoother and firmer.
While the goal of the shop is to sell chocolate, the impact that Cao Artisan Chocolate has had on the community extends much further than just that, according to Mary Matice.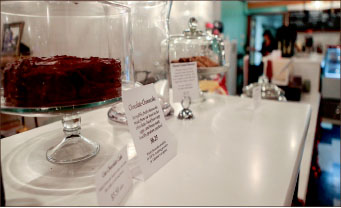 "Food is a big deal," Mary Matice said. "It draws us together, nourishes our bodies and enriches our lives. … We are big on quality, but we are also big on community. We are excited to be a part of the revitalization of downtown Lynchburg. Lynchburg is rich with history and local flair. We want to add value to our community through this store with unique events and to encourage more local interest and tourism."
In the future, Cao Artisan Chocolate hopes to expand its online and wholesale presence in the community. Mary Matice said she hopes that over the next few years, the lounge at Cao can be developed further so more coffee and wine pairing events can be hosted in the shop.
However, for now, Mary Matice said that she feels Cao provides the best chocolate with the best ingredients in the best date night form and encourages Liberty University students to check out the shop for all their sweet tooth cravings.
Cao Artisan Chocolate has tours and tastings every Saturday. Cao will be hosting events throughout the year and plans to post those events on its Facebook page and on discoverlynchburg.org.
For more information on Cao Artisan Chocolate, visit caoartisanchocolates.com/ or call (434) 847-2970.