CFAW takes over campus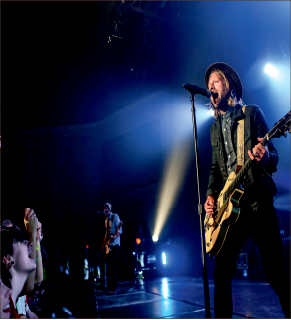 Liberty held its first College for a Weekend of the spring semester Feb. 20-23
An estimated 2,000 guests visited Liberty University's campus to experience the first College for a Weekend (CFAW) of the Spring semester Feb. 20-23, according to the Student Advocate Office (SOA).
Students and their families participated in several activities and events throughout the weekend, including workshops and athletic events, according to the CFAW
itinerary.
Johnnie Moore, Liberty senior vice president for communications, encouraged prospective students during Friday's Convocation to try to find out if the university is meant for them, and Liberty alumnus and Oakland Raiders running back Rashad Jennings surprised students and visitors during the service.
Joshua Best, a current student at West Virginia University, said he hopes to transfer to Liberty next fall. Best said attending Liberty would not only help him academically but spiritually.
"It's a great atmosphere here, and the people are very nice," Best said. "You really need that if you are trying to go deeper into your relationship with God."
Visitors and their families also witnessed the Lady Flames basketball team defeat Winthrop in an 80-69 victory Saturday, Feb. 22. Best attended the game and said he enjoyed the activities during CFAW.
"Liberty offers the students so much," Best said.
"Being able to work out in the gym and going to Sub Connection were definitely highlights as well."
Visitors were also able to enjoy a concert featuring Switchfoot and the Kopecky Family band at Thomas Road Baptist Church Friday, Feb 21. Erica Manie, a high school senior in Florida, said she was surprised at the amount of events offered to visitors.
"I am a huge fan of Switchfoot," Manie said. "When I heard they were going to be performing the weekend that I was coming, the prospect of coming to the school became even better. Without the famous people, the school is fantastic, but the fact that the school is so well-rounded in terms of the different types of music that worship the Lord is great."
Prospective students also attended various classes offered during the weekend. Manie said the experience was unlike other colleges she visited.
"At other colleges, it is all about the school's recruitment of students in order to get money from them, and therefore the visit is a drawn-out tour," Manie said. "This weekend, I was able to attend several classes and actually learn. It definitely lived up to its name."
According to SAO, Liberty hosts a CFAW weekend twice a semester in order for prospective students to experience the life of a college student. Audra Darville, a Liberty sophomore, said the excitement of CFAW weekend reminded her of her first time as a visitor in 2012.
"I remember the concerts and events and how the whole experience overwhelmed me," Darville said. "When I look at all of these students who are thinking about coming here, (it) makes the extra congestion on the campus easier to deal with. Most of us were in their shoes before."
According to the CFAW itinerary, families were able to tour the new Jerry Falwell Library. Visitors also watched a performance from the SOAR dunk team at the LaHaye basketball court Saturday.
According to Liberty's website, CFAW is open to students between the ages of 15 and 24 who are interested in learning more about Liberty.
For more information on CFAW, visit libertycfaw.com.