Center4ME honors heritage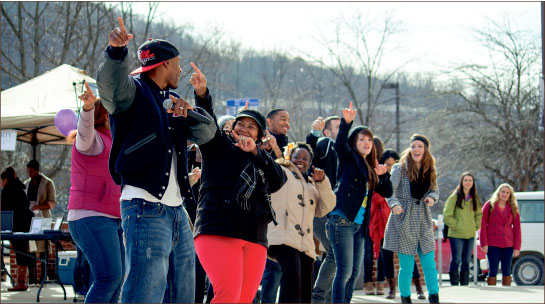 Students begin African American History month with a gathering on DeMoss steps
Live entertainment, colorful clothing and homemade barbecue welcomed students to the front steps of DeMoss Hall Friday, Jan. 31.
Liberty University's Center for Multicultural Enrichment (Center4ME) hosted its annual African American History month kickoff event where students were able to learn more about African American culture, according to Joy Jefferson, associate director of Center4ME.
"Students are able to learn about some stereotypes that they may have had, and they might even feel led to change their thinking," Jefferson said. "I think a lot of students have learned from the events that we have put on."
The kickoff included several booths where people could learn about famous African American inventors, purchase clothing and jewelry or chat over soul food.
"I've learned about what others eat and what they wear," Fantasia Remonvil, Liberty sophomore, said. "As we're learning, we get to tell everybody else and hear what they have learned. (Center4ME) teaches people so many things about different cultures."
Christopher Smith, known as Advocate in the music industry, is a Christian rapper. Smith performed live for the dozens of students who attended the event.
According to Smith, he has been asked to perform a couple of times since graduating from Liberty in 2012. Jefferson asked him to perform for the African American History month kickoff event, which he said he was excited to do.
"I think a lot of times, people aren't culturally aware of other ethnicities, because sometimes we get stuck in our own cultures," Smith said. "I think everything that (Center4ME) does is good and helps people go out and see other cultures. It helps us see how others act and allows us to coexist."
According to Jefferson, the purpose of the kickoff is to bring students together to teach them about African American culture and have fun as well as to promote the events coming up throughout the rest of the month.
Jefferson said one event she would highlight for students to attend is the upcoming Gospel Fest. This event will take place in the Towns Alumni Center Feb. 10 from 7-9:30 p.m. and will cost $5.
"(The Gospel Fest is) the one people will probably really come to because there's dancing and music," Jacqui Washington, Liberty senior, said. "It's really upbeat and fun!"
Center4ME will be hosting other events for African American history month such as the MERGE worship service and a soul food night, according to its Web page.
Jefferson said Center4ME hosts a multitude of events throughout the school year.
"Our Fun Fridays are an open house that we have each Friday where we celebrate a different culture each week," Jefferson said. "During African American history month, all of the Fun Fridays will pertain to African American culture. That gives us the opportunity to meet with different students, staff, and faculty and form friendships."
According to the Center4ME's statement of purpose, the goal of events is to celebrate cultural diversity by offering experiential learning opportunities to all students.
For more information on Center4ME, visit its Web page at liberty.edu/center4me.