Braving the snow
Personnel work to keep campus operational after storm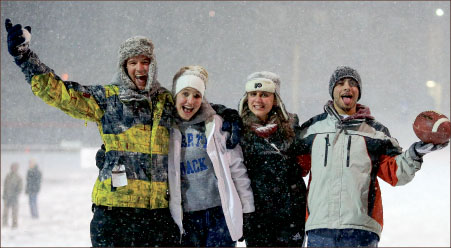 While many Liberty University students enjoyed their snow days by making snowmen, sledding or participating in snowball fights, hundreds of employees, including dining, grounds and postal service workers, braved the harsh conditions to ensure students had their needs taken care of and were safe.
Louis Cambeletta, director of food service operations for Liberty, explained how Sodexo played a major role in providing for students during the rough weather.
"I mean, just imagine being a parent and being home a thousand miles away from your child and finding out that they couldn't get food," Cambeletta said. "And that's a pretty big responsibility that the Sodexo team takes pretty seriously. It's not just about making sure the food's hot and fresh, it's about really nourishing these kids."
Dee Cardwell, the chef in charge of all kitchen production at Reber-Thomas Dining Hall, also saw the importance of feeding students in the midst of the snow.
"(A)s a parent myself, I think that no matter what happens, I would want my daughter to be fed, no matter what kind of weather (or) who couldn't get there," Cardwell said.
When snow started coming down Wednesday afternoon, the Sodexo team sprang into action, putting into place a plan that had been thought through weeks in advance, according to General Manager for Sodexo at Liberty Cheryl Wolff.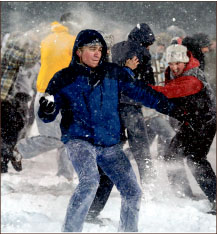 "I think for some of the older chefs who have been here a while, when things like this happen, it's pretty much second nature," Cardwell said. "We shouldn't have to wait for (Wolff) to come and tell us, 'Hey we need to do this. We need to do that.' We're already planning the first day we hear about snow."
According to Wolff, dealing with the inclement weather meant much more than just preparing enough food for students on campus.
In the event of snow, Sodexo management first has to evaluate the number of employees able to work and then has to work to maintain adequate staffing.
All retail locations were closed when snow became an issue, and employees from other units pitched in at the Reber-Thomas Dining Hall and the Hill City Bistro at the Annex, the two dining facilities which always stay open.
"It wouldn't be that good (if the dining hall closed)," Cardwell said.
"I think that, for the most part, kids really depend on Reber to get them through the day on a daily basis. It would just be horrendous if we weren't open."
Sodexo also provided hotel rooms, totaling more than $1,000, for those who would not be able to make it to work and back home in the snow. Additionally, several Sodexo chefs used GPS to navigate Lynchburg to pick up employees to bring them to work, Wolff said.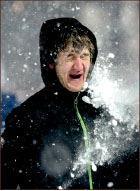 According to Wolff, more than 35 employees and managers worked at Reber-Thomas Dining Hall on the students' days off, and more than 15 people worked at the Annex dining hall. At the Reber-Thomas Dining Hall, 10 employees, including Cardwell, worked full shifts. Cardwell was one of the first employees to report on Thursday and worked from 6:15 a.m. to 5 p.m. Cardwell said he also came back to support the kitchen during the dinner shift but was unable to stay because of the weather. He also worked all day Friday.
Leann Anderson, a full-time nursing student at Liberty and a chef at the Reber-Thomas Dining Hall, also came in to serve students Thursday and Friday. According to Anderson, she walked more than four miles in the snow to get to Liberty and worked for more than 10 hours Thursday.
Cambeletta stressed that many of those who came in to serve at the dining locations made Liberty students their priority on the snow days.
"One of the things … that shouldn't go unnoticed is a lot of these (employees) … their families were at home with needs, and these guys put their families aside to be here for the students, which, I mean, that's a pretty big deal," Cambeletta said.
When it came to food that was produced, Wolff said the Sodexo team had to improvise when they were unable to stick to a preset menu.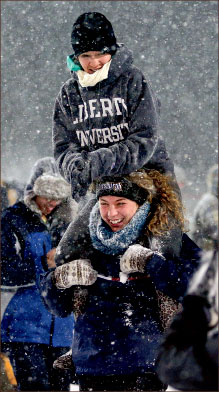 At the Annex dining location, approximately 200 more meals than normal were served Thursday. Staff at the Hill City Bistro also had to change entrees four times, according to Wolff.
"The really neat thing is how, from my perspective, how (the Sodexo team) pulled together, knowing that this was a priority," Cambeletta said.
In addition to normal services during the hectic days, Sodexo opened Reber-Thomas Dining Hall late Wednesday night to serve students doughnuts, cookies and hot chocolate. Wolff estimated that somewhere between 75 and 100 students took advantage of the free food.
The Sodexo team also exceeded expectations when they handed out carnations and chocolates to students in celebration of Valentine's Day.
In addition to the work Sodexo employees did to provide for students, the Grounds Department made sure students were safe by providing around-the-clock maintenance during the snow days.
According to Vice President of Field Operations Scott Starnes, the Grounds Department splits the crew into two shifts of about 30 employees each. They work to make sure roadways, parking lots and pedestrian sidewalks are safe and clear.
"Our main priority is to provide a safe campus during inclement weather for all students, faculty, staff and visitors," Starnes said. "It is truly a team effort."
According to Ryan Pelletier, a Liberty freshman and grounds worker, he estimated that the Grounds Department employees worked three times as long as they would have under normal conditions. In inclement weather situations, grounds personnel work 12-hour shifts of either 2 p.m.-2 a.m. or 2 a.m.-2 p.m.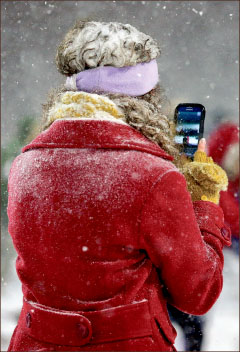 Pelletier said that, although he normally works approximately 16 hours a week, because of the snow, he worked two, 12-hour shifts during the snow days alone. Pelletier said he spent at least 14 of those 24 hours shoveling snow to make sure his fellow students were safe.
"If Grounds had not been plowing, shoveling and putting down salt, very few students would have been able to get on or off campus safely," Pelletier said. "Without Grounds working those hours, it would be likely that sidewalks would be covered with 4 to 5 inches of ice, making it a hazard to walk on."
Another service provided to students despite the weather was the Liberty University Postal Services. According to Robert Boyer, director of fulfillment postal services and warehousing, six of the 13 staff members reported to the post office Friday, Feb. 14, as Valentine's Day is the busiest holiday of the year for them.
"A lot of students get care packages, flowers – it contains a lot of perishable items, so the less time things sit on the shelf, the fresher they are for the students," Boyer said. "So, we're a service-based department, and we try to serve the students as best we can."
Boyer said, because of the snow, many of their big carriers such as USPS, FedEx and UPS could not get packages into Lynchburg.
"Everything kind of got backlogged," Boyer said. "We weren't able to get to the U.S. Post Office. We normally go in at 7 (a.m.) – we didn't get there until 8:30 (a.m.). And then we didn't open until 12 (p.m.), because we had a smaller amount of staff here, so we wanted to make sure that all the packages that came in that day were in the system for the students, so we were actually able to put those packages in the system before noon."
Because planes were grounded and transit routes for trucks were cut off, Boyer said the amount of packages and mail was much smaller than a typical Valentine's Day.
"So that means next week – probably next Monday – it's gonna be pretty hairy," Boyer said. "So we wanted to come in and try and service as much as we could in the six hours. We ended up processing … about 800 packages yesterday just from the U.S. Post Office, so that's quite a bit."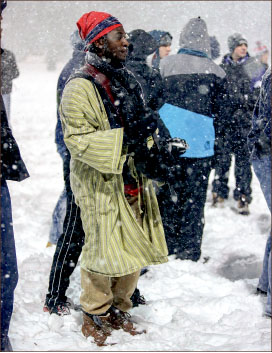 Sending out a text message to his staff, Boyer asked whoever could make it through the snow to come into work, because he knew there would be a line out the door as a result of Valentine's Day.
"We received 824 packages yesterday, and we delivered 656," Boyer said. "So, in six hours, that's basically over a hundred packages an hour, which, that's a little bit more than a package every minute we were handing out. So (we were) fairly busy, considering everything."
Boyer said he knew students would be tracking their Valentine's Day package and would learn that the packages would not arrive until Friday. He said he expected the post office to be fairly busy, and he was glad to be able to service the large number of students who came in despite the snow day.
"I mean, even if only 100 people came in, it was still worthwhile, but the fact that many people picked up, I'm sure that was appreciated by the students and very worthwhile for us to come in and be able to do that," Boyer said.
Along with dining services, the Grounds Department and the post office, the Liberty University Police Department, building services and the Liberty Equestrian Center employees reported to work, providing students with service despite the snow.