Alumnus helps film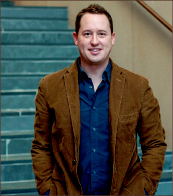 Bowden co-writes script
Liberty alumnus Daniel Bowden said he enjoys seeing a story on paper come to life on film, and he will soon have the opportunity to be a part of bringing a story to life.
Bowden is working with Alexander Films and Live the Life Partners, a Lynchburg-based non-profit, to produce a feature-length movie to be filmed in Roanoke, Va. in March.
According to Alexander Films' website, the film is called "Crossing Streets" and features a police detective and a Methodist minister in a buddy cop drama, a film featuring two people of different backgrounds working together to solve a crime.
Bill Dewhurst, a former professor at Liberty, is the coproducer with Marc Hutchins. Dewhurst said he developed the idea for the story, and Bowden was brought in to take that story and make a script.
"The inspiration started with a love for buddy cop dramas," Bowden said. "The inspiration now is to support our non-profit, Straight Street, out of Roanoke."
According to Alexander Films' website, Straight Street is a non-profit with a mission to serve children and families at risk. They have worked with the community, including the Roanoke City Police, to support children and families in the Roanoke Valley since 1994.
"Alexander Films and Live the Life Partners have developed a unique film initiative that enables a feature film to support non-profits through promotion and funding," Alexander Films' website states.
According to the website, the film model is set up to give 100 percent of the profits to Straight Street after production costs are covered by the donations and support of Roanoke leaders and businesses.
"I hope the film model we're using can be used successfully many times over," Bowden said. "It's an incredible model and one we are all anxious to use multiple times with many non-profits."
Bowden said he also hopes that "Crossing Streets" will be "a quality, compelling and entertaining film."
According to Dewhurst, the detective-minister partnership in the movie set off on a journey to solve a gang-related shooting. They soon discover that the incident is a small part of a bigger story where catching the killer means putting a stop to an all-out gang war. In the process, they learn that they will have to work together to save lives.
"Marc had talked about wanting it to be a 'Lethal Weapon meets Castle' kind of film, almost a dramedy," Bowden said. "Great action and drama, but also great humor. And I definitely think the script captures that."
According to Bowden, "Crossing Streets" is not a faith-based film. It is, however, a family-film made and produced by Christians that reflects Christian ethics of grace, mercy, justice and redemption.
"I love seeing a story on paper come to life visually," Bowden said. "It's one thing to develop characters, throw them into crazy scenarios and write dialogue for them to say, but when I get to see actors bring that to life, make it their own and something even better, that's an incredible experience."
According to Bowden, though an open casting call was already held in Roanoke, some roles are still being filled. Anyone interested can contact Hutchins at marc@alexanderfilms.com.
Alexander Films' website states viewers can go to their Facebook page for more information on ways to support the film through monetary gifts or volunteer work.