Students return to campus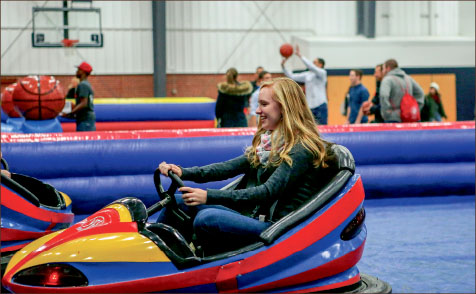 Student Activities hosts the Back to School Bash, the first campus activity of the semester
Liberty University students quickly filled the Schilling Center ready to master the mechanical bull, challenge their friends to a game of Twister or Jenga or dress up as sumo wrestlers for a competition during the Student Activities-hosted Back to School Bash Friday, Jan. 17
"It is never boring around here," Liberty freshman Curtissa Odi, said. "They have so many fun activities and a great variety. It is so much fun."
Liberty student Emma Maurer agreed with Odi, who invited Maurer to attend.
"It's fun to see the different activities," Maurer said. "My favorite is watching the sumo wrestlers."
Students also came for more than having fun and playing games. Some, such as sophomore Jay Jung, went to win prizes, such as a bluetooth speaker, headphones, various gift cards, items for dorm rooms and more.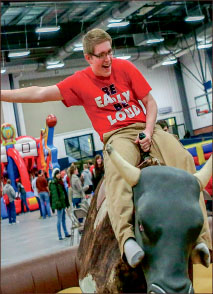 For Jung, this was the fourth Back to School Bash he has attended.
"What keeps me coming back are the fun games like miniature golf, bumper cars, basketball and many more," Jung said. "You can win prizes, and it's (more fun) the more you come."
Other competitions included mechanical bull-riding contest and a miniature golf hole-in-one competition. Prizes were also offered to winners of onstage challenges, such as the pushup competition. Students who interacted with SA by means of social media also had the chance to enter a drawing to win a prize, and other activities incorporated prizes for high scores or, in the case of sumo wrestling, for having a good fight.
Concessions were offered to students as they made their way from one activity to the next. Popcorn was handed out for free and various candies and sodas were also sold.
According to Emilee Forner, SA event supervisor, more than 500 people attend the Back to School Bash every semester. She said that the games and prizes seem to keep students coming back for the event.
In order to receive feedback on the night, SA handed out a survey to students who attended. Apart from requesting some general information, the survey asked students to rate their experience, the activities and the location of the bash on a scale from Excellent to Poor. According to Forner, these surveys will be used by SA to improve the Back to School Bash experience for students.
In addition to the welcome-back event, SA hosts various events for students to enjoy throughout the year. For the month of January, they will be hosting the Campus Artist Series, Bingo Night, the Arctic 5k Trail Race, Open Mic Nights and a movie night. For more information about these events, visit the SA page at liberty.edu/sa.