Students attend LaHaye Wellness Series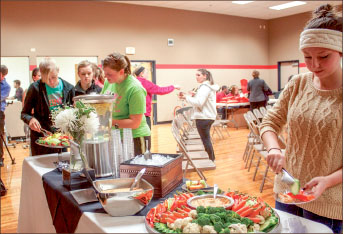 Registered Dietician Robin Quay speaks to students about various ways to be healthy while living on campus
Students met for Liberty University's first Wellness Series meeting of the semester Jan. 22 to hear registered dietician Robin Quay speak about healthy eating.
Every semester, the LaHaye Student Union hosts a three-part Wellness Series, including sessions on healthy eating, fitness, and overall health and wellness, according to Associate Director at the LaHaye Student Union Jamie Swyers.
"I enjoy hearing about behind the scenes at Sodexo, some of the secrets and tips people might not know," Swyers said.
Quay began the session by sharing scripture answering the question of what God says about healthy living.
"I like how you can not only live a healthy lifestyle … but you can compare what God says," Liberty freshman Pertina Smith said.
Quay mentioned that 50-70 percent of health problems in the United States are caused by a poor diet and lack of exercise.
"Lasting change requires honest community," Quay said.
She said that, statistically, people in small groups lose twice as much weight as people who attempt it on their own.
The Daniel Plan, a six-week program focusing on faith, food, fitness, focus and friends, will be led by Quay and take place in the Reber-Thomas Executive Dining Room every Tuesday, beginning Jan. 28 at 5:30 p.m.
Quay also informed students about the new and healthy recipes now available at Liberty Dining facilities.
Sodexo Retail Manager Marcus Stewarts said "mindful" recipes have more vegetables, more proteins and other healthy options.
Mindful options are now available at the Reber-Thomas Dining Hall, the Tilley and the Annex, according to Sodexo Marketing Manager Roxy Hockensmith. Sodexo hopes to expand to Doc's, Sub Connection and the Bistro.
Quay also encouraged students to make wise choices and develop good habits while relying on God's power.
"Lasting change requires God's spirit in your life," Quay said. "The secret to self-control is spirit-control."
The class size is limited to 30 people. Those interested can e-mail rskompelien@liberty.edu or call 434-582-2262. Sodexo is providing workbooks for participants.
Quay has also made a Dorm Cookbook available online at libertydining.com/wellness/index.