Media lab offers new features
Communications students now have access to more cameras and recently added equipment
Tucked away in the back of the Performing Arts Hall is a videographer's sanctuary — the Student Media Lab.
Inside the lab is a treasure trove of technology. Cables and lights hang haphazardly from the ceiling. Rows of lockers containing goodies like light kits, microphones and cameras stand at the ready for students to use. Around the corner is also a studio desk complete with a green screen.
The Student Media Lab offers students a variety of technology to use in order to achieve the greatest level of professionalism and success on their video and audio projects.
Jake Johnston, the lab supervisor who orders equipment, hires student workers and helps students whenever they are in need of assistance, explained the resources
offered to students.
"We offer cameras ranging from $300 (handheld) cameras to the Canon C100s that are about $6,500 a pop," Johnston said. "We have audio equipment as well and a studio that we use for student projects. There are also some editing computers that students can use if there is a class going on in the computer lab."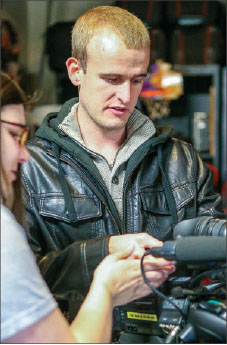 However, the lab did not always contain the technology it has today. Johnston remembered the lab's state when he first got there just a few years ago.
"When I first started (working) at the media lab, the whole thing was painted blue," Johnston said. "There was this orange carpet that had been here since the 1980s, and it was just the most disgusting thing."
After gutting the lab, putting in new floors, painting the walls and rearranging everything, Johnston set to work updating the inventory.
"At the time we had maybe 12 total cameras," Johnston said. "Now we're up to about 40 cameras. We've doubled, if not tripled, our audio equipment (and our lighting equipment)."
According to students' degree completion plans, most Communication & Creative Arts students have to take at least one video and audio class. For digital media or broadcast journalism majors, the media lab is the one-stop shop for all their video classes.
"I enjoy students coming in who are where I have been," Jessica Pope, a lab worker, said. "I like being able to help them get through the things I've already gone through."
Pope encourages students to become familiar with the Student Media Lab, its workers and fellow communications majors.
"It's a cool place," Pope said. "Cool people hang out here. I think the digital media department has the more easy-going, relaxed type of people. So it's a nice environment to surround yourself with."
Victoria Wood is a junior broadcast journalism major who frequently visits the lab for her video and audio project needs.
"I love the Student Media Lab, because every time I come down here, everyone is in such good spirits, and they're so friendly and helpful. It's just a great environment to be in," Wood said.
The lab is open Monday, Tuesday and Thursday from 9 a.m-9 p.m. and Wednesday and Friday from 9 a.m.-7 p.m. In order to check out any of the equipment, students must request the items 24 hours in advance via the online checkout system provided by their video class teacher.
For further information on the lab, call 434-582-2405.