Liberty alumna brings dream to life
Local artists show off handmade creations at newly opened Pastiche at Main in downtown Lynchburg
For owner Haley Pavao, Pastiche at Main is more than just a new boutique — it is the realization of a dream.
Pavao, who graduated from Liberty University in 2007 with a bachelor's degree in interior design, said she first had the idea for a shop that offered locally created items in December of last year. According to Pavao, she enjoyed design while at Liberty, but the vision for the shop actually resulted from her recently discovered love for retail, which developed as she worked at a local paint and wallpaper store after college.
"I had always hoped to have my store one day, but then I gained some extra retail experience and from there kind of met creative people, and all of that culminated and started Pastiche," Pavao said.
As she began to further pursue her vision, Pavao said she gathered a variety of "local creatives" who were interested in selling their items at her shop after she made connections with artists at the biannual Vintage Lynchburg Market. Pavao said she chooses particular artists to feature in the store because of the high quality of the items they make.
"I'm very specific about the finished detail of a product, because I think anyone can go on Pinterest and find a rosette that looks similar to ours," Pavao said. "But to actually do it themselves, and then to sell it as if it's their company, that is a detailed eye and someone that has really worked out the way to make their product look finished and complete. So I am fairly picky about who joins, only for the look and aesthetic."
Pavao said her idea then continued to develop with the help of local entrepreneurs, who met with Pavao to hash out the details of the business side of the shop. According to Pavao, local creatives receive a percentage of the profit from their created items, and they also pay a monthly vendor fee.
With the business side of the store taken care of and several local artists committed to her vision, Pavao continued with her plan and opened the store in downtown Lynchburg. Pavao's idea became a reality at the grand opening of Pastiche at Main Sept. 7.
According to the shop's website, Pastiche at Main is "a hodgepodge of local creatives" with the purpose of combining "a variety of local creatives under one roof to create, inspire and sell together."
Pastiche at Main offers a wide variety of items, including jewelry, paper goods such as greeting cards, accessories for girls, home décor, furniture, pottery such as mugs and small dishes, hanging art, and accessories such as hair clips, headbands and scarves for women. The shop also offers a line of men's bowties.
Pastiche at Main is unique from other boutiques in the area, Pavao said, because it strictly offers local items. Additionally, most items available are one-of-a-kind, handmade or hand-picked. For example, all hanging art is made by local artists, and vintage items such as the furniture pieces are hand-picked and "up-cycled," according to Pavao.
"If there's only one of an item, then (customers) have to get here to get it," Pavao said. "That's the difference with our store. We have a lot of one-of-a-kind items, so once they're gone, that might not be made again or they might not be around, because they're truly vintage, one-of-a-kind."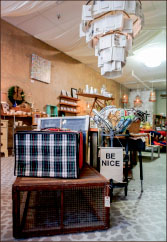 Because of the assortment of items, from small hair accessories to large pieces of furniture, prices span a wide range. Pavao said she works with each of the local creatives featured at Pastiche at Main to establish prices for every type of item based on the cost of materials and the work that went into the creative process. Prices for smaller items start at $5, and prices for mid-size décor items and hanging art average $30-$40.
Pastiche at Main is also different because of its initiative to support Mosaic, a ministry of Brentwood Church that focuses on providing resources for families in the area who are looking to adopt or foster children. Pavao said she gives a portion of the percentage she makes from sales to support the ministry.
"I've gotten to know and love them and how they're reaching out to the community," Pavao said. "And so I felt like it would be a good way of supporting local Lynchburg, with me just having a storefront, in a little bit bigger of a way by supporting their initiative."
Pastiche at Main further supports Mosaic by contributing 100 percent of profits made from gift wrapping to create backpacks with special items for children who are moving into new foster homes.
"Our gift wrapping currently that we're doing is $3 … and that's going to help fill backpacks for little kids," Pavao said. "So as a foster kid comes into a new home, they get a backpack full of their own items, gives them some independence."
Although Pastiche at Main has only been open approximately four months, Pavao said the store has already seen success.
Within the four months of operation, the number of local creatives featured has increased from 14 at the grand opening to 20, according to Pavao.
Pastiche at Main has also seen success in the number of visitors it has received.
Because of its location on Main Street in downtown Lynchburg, the store is in a perfect location to draw an artistic crowd and tourists who flock to the center of the city, Pavao said. Additionally, events such as the farmers market on Saturdays mean more downtown visitors, resulting in a rush of customers for Pastiche at Main.
The store has also seen a huge response from the younger generation, because younger women enjoy the trendy decorations and accessories, according to Pavao. But the store has been even more widely accepted than Pavao originally thought it would be. According to the young owner, Pastiche at Main has seen many visitors from the older generation as well, because they enjoy the nod back to earlier trends the vintage items provide.
Pastiche at Main's achievement in its short life can also be seen in the attention it has received from local publications. It has been featured in Work It, Lynchburg and The Burg, which are branches of The News & Advance that highlight business and entertainment in the area, respectively. The store has also been promoted through lynchvegas.com, a website that helps "people discover all the great things that Lynchburg has to offer."
Pavao said that as Pastiche at Main continues to bring in more customers, she hopes to expand the store's offerings.
According to Pavao, she sees the number of local creatives featured in the store increasing in the near future, and she hopes to offer more special events as well. She said she also wants to participate in more downtown events, and she is now providing workshops showcasing some of the skills seen in the creations at the store.
In addition, Pavao said she has contacted administrators in the Family & Consumer Sciences at Liberty in hopes of starting an internship program. According to Pavao, she wants to bring in college students with an interest in design and marketing to improve Pastiche at Main.
As Pavao continues to promote and develop her boutique, she said she is confident her store will appeal to an increased number of customers and will transition as trends change.
"I would absolutely be willing to expand in the future," Pavao said. "I think as different trends come and go, Pastiche will change with those."
Pastiche at Main is located at 811 Main Street and is open Monday-Wednesday and Saturday, 10 a.m.-4 p.m. and Thursday and Friday, 12-6 p.m. For more information about the store or workshops, visit pasticheatmain.com or facebook.com/pasticheatmain, email info@pasticheatmain.com or call 434-845-2400.