Frozen race
Runners brave the cold and explore the hills of the Liberty trail system
Brisk winter weather greeted runners that gathered at the Liberty Mountain Snowflex Centre for the third-annual Arctic 5k Trail Race, which was hosted by Student Activities (SA), Saturday, Jan. 25.
According to Bekah Davis, an SA employee, there were approximately 150 runners at this year's race.
The race was SA's first of the new this year and is the most intense race that SA hosts, according to Davis.
According to SA Associate Director Joshua Yeoman, there are two things that make this race different than the other SA races.
"This is one hard 5k," Yeoman said. "It is hard for two reasons. First, the weather at this time of year is unpredictable and precarious. Second, the elevation gain and loss for the course is huge compared to our other races. Some might call parts of this race more of a hike."
The race began and ended at Snowflex. According to Yeoman, the trails for the course are on the Liberty Mountain Trail System.
According to AccuWeather.com, the temperatures were in the 20s as the runners gathered at the starting line.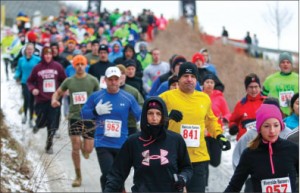 Brandon Taylor, 20, finished the race in first place with a time of 24:21. Fellow runner Dakota Pellman, who is 23 and has run several races in the past, said that the frigid temperatures made the race one of his most difficult. Pellman finished in fourth place overall and in first place in his age group.
"It was really hard not to cramp up … just with the cold and the snow on the trails," Pellman said.
Sarah Snyder, a junior at Liberty University, said that the race was harder than she expected it to be.
"(I think) it was more like a hike," Snyder said. "I slipped and fell at one point. … The weather didn't affect me though. I enjoy the cold. Starting out is hard, but you get used to it."
Snyder did not train for the race, but said that she is in a running class that helped her with the race. The Arctic 5k was her second race.
Winners received their medals at an awards ceremony held in the Barrick-Falwell Lodge at the Snowflex Centre after the race was finished.
For more information about upcoming SA events, visit liberty.edu/studentactivities.