Contest launches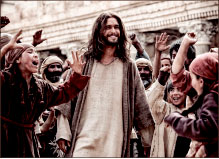 Liberty University students will be putting their creative talents to use in pursuit of a two-person trip to Hollywood after recent Convocation speakers Mark Burnett and Roma Downey's announcement of a video contest to promote their new movie, "Son of God."
According to the contest rules, Liberty students interested in making a video must first register online at liberty.edu/ElectJesus. After registering, they will be allowed access to four exclusive clips from the movie and two songs from the official "Son of God" album to be used in the production of a campaign-themed video urging people to "elect Jesus" by purchasing tickets to the movie, which premieres Feb. 28.
Contest entries must be shorter than two minutes and 30 seconds and need to be turned in by Feb. 17.
The videos will be evaluated based on their originality and creativity, quality of filmmaking, effectiveness in promoting the "Son of God" brand and number of views on Liberty's YouTube page.
Videos approved by Liberty and Lightworkers Media will be posted on Liberty's YouTube page Feb. 18, and then participants will promote their videos in an attempt to get as many YouTube views as possible. The winner will be announced Feb. 24.
"It might be someone from finance," Burnett said. "It might be someone from the football team. We don't know who is going to make the video, and it is open to everyone. … Anyone who has got a Mac can make a video."
The winners will fly all expenses paid to Hollywood for four days and three nights as well as attend a meeting with Burnett and Downey with VIP passes to a live taping of "The Voice," an NBC television show produced by Burnett.
Only one video will be selected as the winner, but all participants with approved videos will receive the soundtrack for the movie as a reward for their efforts, and the runner-up will receive two VIP tickets and backstage passes to the Inspired By Music Tour concert April 12 in Lynchburg, Va., which will include artists such as Lecrae, Chris Tomlin, Steven Curtis Chapman, Mac Powell and Michael W. Smith.
For complete directions about how to enter the contest, visit liberty.edu/ElectJesus.