Against the odds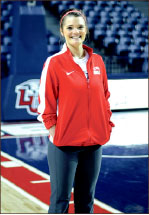 Basketball manager pursues dreams
It started in the fifth grade for Carley Cottingham. She picked up a basketball and never put it down.
Ever since that time, basketball has been a monumental part of her life. According to the Detriot Free Press, Cottingham earned all-conference honors her sophomore and junior seasons at Three Rivers High School in Three Rivers, Mich., she had hopes of playing basketball at the collegiate level. She always dreamed of playing at Liberty, the school where her parents met and graduated.
However, during her junior season, Cottingham experienced pain in her right hand and lower arm. According to Cottingham, doctors diagnosed it as tendonitis, a painful and relatively common injury that often heals with time, at first. Unfortunately, the pain did not go away, so she went back to the doctor later in the year and found out what was really causing her pain.
"When I started noticing weird symptoms, I really didn't think anything of it," Cottingham said. "Never once did it ever cross my mind that I was going to lose
my hand."
It turned out she had a rare disorder called Thoracic Outlet Syndrome, which was affecting blood flow into her right arm, forming life-threatening clots, according to Dr. William C. Shiel of medicinenet.com. Doctors told her that the only safe course of action to take was to amputate her right hand — her dominant hand for dribbling and shooting.
"My initial reaction (to the doctors' telling me that I would need to get my hand amputated) was 'finally,'" Cottingham said. "I had been in so much pain, and I was ready for the pain to be gone."
The surgery occurred in late August of 2009, just a few months before basketball season was set to begin, but sitting out never crossed Cottingham's mind. According to her, she had to learn to shoot with her left hand, planning to make her in-game debut on Senior Night late in the season in February. Cottingham was so dedicated to playing at least part of her senior season that she was out shooting with her dad just three days after her surgery.
"I missed the first three games because I was still trying to figure out what I could or couldn't do," Cottingham said. "The night before the fourth game, my dad came up to me and said, 'Carley, what are you waiting for? Why are you not playing? You can play. You do it at practice, so why not in a game?'"
Following the conversation with her dad, Cottingham moved her debut date up from February to just the fourth game of the season, entering the game to a standing ovation. She went on to play every game for the rest of the season, earning all-conference honors for a third straight year.
Her story began receiving widespread attention as she continued her senior season. The Detroit Free-Press wrote a story on her, and later, ESPN heard about her story and came out to do a story. She was featured on ESPN.com and in ESPN The Magazine, and was also being invited to a Detroit Pistons game after being named Michigan's Hero of the Month.
"(The media attention) was cool," Cottingham said. "Cool benefits and perks have come out of it. I mean, I lost my hand, might as well do some fun stuff."
However, despite her strong play, Cottingham was not able to play basketball in college. She knew she still wanted to be involved with basketball though, and she sent her story to Liberty women's basketball coach Carey Green, who agreed to let Cottingham become a team manager.
She is now a senior, going on her fourth year as a manager for the women's basketball team. While she may be stuck doing the players' laundry instead of shooting three pointers, Cottingham said she is more than happy to be a part of the team during her college career in any shape or form.
Cottingham plans to graduate in May 2014 with a degree in Sport Management. However, her ambitions stretch much further than just graduating. She is currently in the beginning stages of writing a book on her story. She said it is still a work in progress, but she fully plans on finishing and releasing it. She is also interested in coaching — anything to keep her around basketball.