Students compete in Doritos contest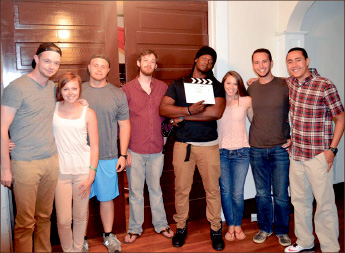 Two groups from Miller's Advanced Video Production class have been contacted about their Doritos commercials
Students in the Department of Digital Media and Communication Arts (DMCA) have accepted the challenge to compete in the Doritos Crash the Super Bowl VIII contest.
According to professor Pamela Miller, there were three groups in her COMS 483 Advanced Video Production class that chose to make a Doritos commercial in hopes of winning the contest.
Doritos' official rules state that the grand prize winners will receive $1 million, the chance to work on the crew of Marvel's "Avengers: Age of Ultron" movie, a trip to Super Bowl XLVIII and their commercial shown during Super Bowl XLVIII.
"There were three groups and three options," Miller said. "They all chose the same option. All three of the groups had creative ideas similar in theme – Doritos changes things."
Of the three group's, two submitted their final spot into the contest.
Lily Smith, the commercial's director and writer, said her groups commercial, entitled "Doritos Brings Out the Fun in Everyone," was submitted about three weeks ago.
Smith said the idea came to her the day she was to submit her idea to Miller.
"I was thinking about a party and what I had to take," Smith said. "Then I got to thinking 'What makes a party good? What if we made a commercial where the good stuff was actually Doritos instead of drugs or alcohol?'"
From there, her group developed the idea in preproduction. This process took about two weeks, Smith said.
Tyrone Neal, the commercial's producer, said he believes "Doritos Brings Out the Fun in Everyone" was more original than the other submissions.
"If you notice, on other entries, everyone wants to sell the product by sex appeal, children, the nerdy guys, the office guys," Neal said. "We went for kind of edgy, but yet still appropriate and has humor to it as well, with great product placement."
The story line follows a boring college party that is energized by Doritos. An angry father, played by Liberty professor Dr. Carey Martin, returns home to find that his son is having an outrageous party. He quickly realizes the cause for all of the ruckus is Doritos, and he joins in on the fun.
According to Smith, the commercial once had enough votes to be ranked in the top 20 in the world, but has since lost ground. However, "Doritos Brings Out the Fun in Everyone" is currently among the entries that are most viewed and most rated, according to the Doritos website.
Bryan Croson, videographer, Dylan Sheldon, editor, and Gabe Henderson, creative assistant, worked with the technical aspect of the production, Smith said.
Greg Coleman, editor, said his group submitted a commercial entitled "The Struggle."
"It's a classic underdog tale," Coleman said. "An underdog comes in eating Doritos. Doritos give him the confidence to beat (the arm wrestler). He beats him and walks away with two ladies on his side."
Brain Shulda, director of "The Struggle," said the idea was a group effort.
"(The idea) changed multiple times throughout," Shulda said. "Even on the set we changed some ideas around."
Shulda said production was completed all in one night at a warehouse in downtown Lynchburg. Video shooting lasted about eight hours, according to Shulda.
Coleman said as of last week, "The Struggle" had been viewed more than 500 times.
Both groups of students who submitted a commercial into the competition said they learned valuable lessons from this project.
Smith and Coleman said they learned how to lead effectively and work well with others.
"This project mainly taught me about planning," Coleman said. "Preproduction is definitely where the bulk of your time needs to be. If you don't have it planned out, you won't be able to do things effectively."
Coleman and Shulda worked alongside Jamie Vest and Sam Hanson to produce "The Struggle."
According to the Doritos commercial official rules, all entries must be submitted by Nov. 24, 2013.
To view and vote for the submitted Doritos commercials, visit doritos.com.