Microsoft visits campus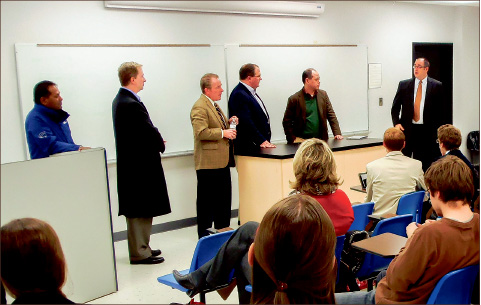 Computer company employees speak at School of Business, provide insight
Students from the Liberty University School of Business heard from representatives from the Microsoft Corporation Wednesday, Nov. 13 about how to get ahead in the world of information technology.
According to School of Business Dean Scott Hicks, the Liberty Information Technology Operations department partners with Microsoft in certain areas of its daily operations. Six Microsoft employees were working at Liberty Nov. 13, and while on campus, they shared some of their business experience with students in the classroom.
Microsoft engineer Goldwyn Vaz, along with five other Microsoft employees who work in various aspects of the company, communicated with students about what working for Microsoft is like before the six visitors took questions from students about everything from Microsoft's corporate structure to the importance of being certified in programs like Microsoft Excel.
"Hopefully there are some folks in the room (who) are aspiring IT professionals," Vaz said. "Hopefully one of us has spoken to them and inspired them to help in carrying on Microsoft by using the culture and skills they gained from Liberty."
According to Hicks, the opportunity for students to learn from Microsoft employees about exactly what is required of them when it comes time to apply for the jobs they want was valuable and all part of his philosophy of "applied, practical and experiential learning."
Hicks also said that the Christian/Community Service hours that all Liberty students complete every semester can play a big part in allowing students to set themselves apart from their competition.
"It's very interesting that our students are already being trained to be a very good fit for small companies or large companies like Microsoft who are focused on giving back and adding value, and that is what Liberty University is all about," Hicks said.
Hicks estimated that the Liberty School of Business hosts approximately 40-60 guest speakers each semester through School of Business Convocations, classroom visits and events held by clubs.
According to Hicks, whether Liberty School of Business students choose to pursue a career in information technology or something else, Microsoft's visit further emphasized what Liberty graduates have to offer.
"I could go for the next few hours naming the companies that, when they get our students, they love them," Hicks said. "Once that brand is established, we have no problem with our students competing. They're competing because they come in with confident humility, a great education, critical thinking skills, communication skills and a work ethic that's unparalleled. The business will work to teach you the rest."