Exhibit showcases student artwork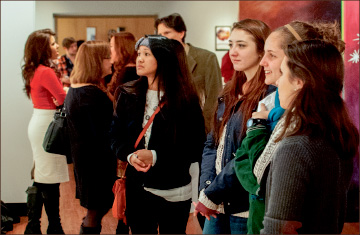 Graduates celebrate gallery opening by displaying multiple works and discussing their pieces with guests
Seniors in the Liberty University Department of Studio and Digital Arts (SADA) showcased their work in the fall 2013 senior exhibit, "Infuse," in the University Gallery Thursday, Nov. 14.
Artists discussed with viewers as students, faculty, staff and members of the community toured the gallery during the artist's reception from 6:00-8:30 p.m.
The artist's reception marked the opening of the gallery, which will be open until Dec. 11, according to SADA Chair Todd Smith.
There are 10 graduating seniors who displayed their style as an artist through painting, photography and various other works at "Infuse."
"The exhibit allows students to focus on their particular area," Smith said. "Art is a form of expression, and it is also a medium for communication. So when they are doing both of those things, they are expressing who they are at this moment in their career and communicating something through the work they create."
According to Smith, the variety of work featured in the exhibit reflects well upon the program itself.
"When you have a body of work, not just by an individual student but by many students, it actually showcases the quality of the program because it shows the breadth and depth of the course offerings and skill sets that is offered within our department," Smith said.
As a department, Smith said, the professors encourage the artists to find their style and pursue and excel in it for the glory of God.
"We have a strong belief that every student has a calling that comes here, no matter what their area is, but particularly in the field of art … We feel like our students are called to go into the field of art and design to be salt and light and to bring glory to God through what they make, and reflect his creativity," Smith said.
The artists stood beside their work to discuss their pieces with the viewers. According to junior Katie Lamm, the photography pieces by Sarah Hogge caught her attention.
"My favorite display was the pictures printed on metal because they were all of water droplets, and that is not something that is usually captured, because it happens so quickly," Lamm said.
The gallery is open Monday – Friday, 8 a.m.-7 p.m. and Saturday from 10 a.m.-7 p.m., located in DeMoss Hall 4069. The "Infuse" exhibit will be on display until Dec. 11. For more information, visit SADA at liberty.edu.