Gingriches socialize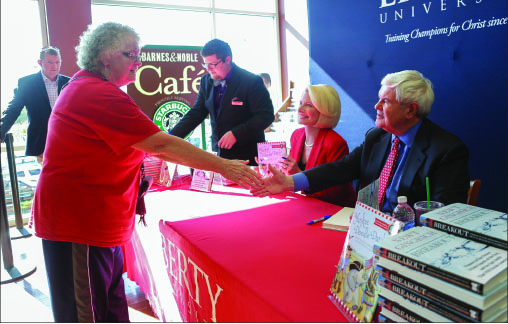 Newt Gingrich and his wife, Callista, visited Nov. 2 to promote their new books
Former Speaker of the House Newt Gingrich and his wife, Callista Gingrich, visited the Liberty University Bookstore Saturday, Nov. 2 for a book signing in order to promote their new books, "Breakout" and "Sweet Land of Liberty."
Callista Gingrich began the event at noon by reading "Sweet Land of Liberty" to a group of children with the help of Ellis the Elephant, the main character of her book series. After story time concluded, Newt and Callista Gingrich began the book signing with the line stretching through the store.
"Breakout," one of 27 books that Newt Gingrich has written, focuses on the "prison guards of the past," people who prefer to defend the status quo in American politics, and the "pioneers of the future," people who are working to help America advance in all areas of life. According to Newt Gingrich, changing the face of American politics in a way that allows pioneers of the future to prosper will be the key to the country's future.
"This is actually a project that I began thinking about in 1981 … because it was clear that you couldn't solve the problem of big government inside the Washington model, and they haven't," Newt Gingrich said. "… That's how I began to think about how you could find the pioneers of the future and then break out from the Washington stalemate."
Callista Gingrich's "Sweet Land of Liberty" marks the third of her patriotic children's books following the adventures of Ellis the Elephant, named after Ellis Island, the place many American immigrants first stopped upon their arrival.
"I write my books because I really love America," Callista Gingrich said. "I think our country is an exceptional nation, and I believe it's more important now than ever that our children understand why our country is so special. That's my inspiration for writing these books."
According to Liberty Bookstore Trade Manager Brian DiGia, "Breakout" was not scheduled to be released until Monday, Nov. 4, but Regnery Publishing gave special permission for the store to sell copies of the book at the signing.
"It does add to the excitement because it's the only place you can get it," DiGia said.
Although Newt Gingrich admitted the event was designed to promote the new books, DiGia said he noticed their interest in talking with every person who passed through the line.
"The Gingriches are very hospitable," DiGia said. "They like meeting people, so it's not about the book."
Newt Gingrich estimated that he has visited Liberty's campus more than 10 times since its inception in 1971.
"It's a great institution that has grown unbelievably from when I first came here," Newt Gingrich said. "It's really remarkable every time we come."
According to DiGia, Saturday's book signing attracted almost as many people as the couple's first book signing at the Liberty Bookstore the previous year.
"Mr. and Mrs. Gingrich specifically requested to come back on Parents Weekend," DiGia said. "They were here last year on Parents Weekend, and they enjoyed it so much that they wanted to come back on Parents Weekend."
With elections approaching both in Virginia and across America, Newt Gingrich gave a word of advice about how Americans can contribute to their country's breakout from the status quo, which he discusses in his book.
"Try to find candidates who have some sense of the future and some sense of what can be done to change government," Newt Gingrich said. "And if you can't find one, run yourself."