Armed forces honored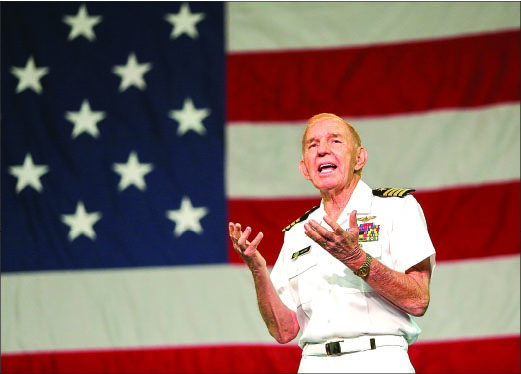 Capt. Gerald Coffee spoke to students at Convocation for Military Emphasis Week
Capt. Gerald Coffee spoke before more than 10,000 students as Liberty University honored veterans and those serving the armed forces during Military Emphasis Week at Convocation Wednesday, Nov. 6.
Coffee, a decorated veteran who has served more than 27 years in the military, shared his story about how he kept his faith during his time as a prisoner of war (POW) during the Vietnam War.
"Today is a very special morning," Johnnie Moore, vice president of communications, said. "Today, we center an entire (Convocation) to honor those who fought for our freedom so we could be here."
Convocation opened with the Posting of the Colors and the Pledge of Allegiance followed by a performance of the "Star Spangled Banner" performed by the Sounds of Liberty. A moment of silence followed for those who had lost their lives for the country.
Moore then had students who were currently serving in the military stand along with those who are veterans as well as the family members of those in the military, stand so they could be honored.
"If one of those people is standing near you, make sure you go and personally thank them for their service to this country," Moore said. Moore also noted how important it was for the students' generation to honor the troops.
As Coffee took the stage, he said he was overwhelmed by the students at Liberty.
"It's an honor to be at a school with such a spiritual and patriotic emphasis," Coffee said.
Coffee talked about the four kinds of faith that got him through the seven years he spent in a POW camp during the Vietnam War.
"I constantly prayed for God to get me back to my family and my country," Coffee said. "But then I started to pray for him to show me what he wanted me to learn. I prayed that I would come out a better, stronger and smarter person."
Coffee said after praying that, every day seemed to have new purpose for him despite his circumstance.
"I never dreamed of the opportunities that it would give me," Coffee said.
Coffee shared how faith in himself, others, his country and God helped him make it through those seven years.
"We are masters of our own fate," Coffee said. "We should never lose faith. All of us at one time have been a POW… a prisoner of woe where we wish things hadn't happened to us. But it's in those times where we learn about ourselves."
Coffee said that, as a speaker at Liberty, he had no problem sharing how important his faith had been for him during his imprisonment.
"When I first got in my cell, the first words I saw carved into the wall were 'God equals strength,'" Coffee said. "I knew there that I was never alone."
As Coffee concluded his speech, he continued to emphasize the value of faith in America.
"God bless, and God bless America," Coffee said as students in the Vines Center gave him a standing ovation.