Virginia 10 Miler hosts 40th anniversary run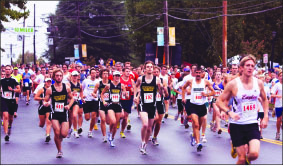 Energy and excitement filled the air as more than 1,400 people gathered in downtown Lynchburg Saturday, Sept. 28, to run the Virginia 10 Miler.
According to the Genworth Virginia 10 Miler website, this year marked the 40th anniversary for the event, which holds various races and walks for people of all ages. Those participating in the 10 mile race began and finished at E.C. Glass High School.
Liberty University was among the largest corporate entries for the race, second only to Centra, according to Liberty University News Service. With 273 students and employees registered for the different races, Liberty employee and alumnus Daniel McDonald said he decided to race for the competitiveness of the sport.
"After you finish that, it's an incredible feeling," McDonald said. "To think, 'My body just ran 10 miles straight,' that's a pretty cool feeling."
McDonald said he noticed the excitement of everyone present upon arrival. Once he started running, he said it was not too difficult, and he was able to stay motivated with his friend running by his side.
"There was one part where, you know, I approached this hill toward the end," McDonald said. "So, I just had to keep telling myself that the hill in front of me was the last one, even though there were three or four in front of it. I had a friend next to me. We motivated each other. We told each other to keep running, regardless."
One aspect of the race McDonald said a source of encouragement during the race was the cheers from the crowd as he crossed the finish line.
"That was pretty motivating to be there, to be with all those people, and you see the finish line," McDonald said. "So when you see it, you say, 'Alright, let's run all out. If I stumble and fall, I'm gonna crawl across this finish line, regardless.'"
Finishing under two hours, McDonald said he wants to continue competing in races, increasing the distance with each undertaking.
"Now we gotta move on to 13 miles, and (then) a full marathon next," McDonald said.
According to The News & Advance, Julius Kogo of Kenya finished first out of 1,441 participants. For more information regarding the Genworth Virginia 10 Miler, visit virginiatenmiler.com.