The Drowsy Poet closes its doors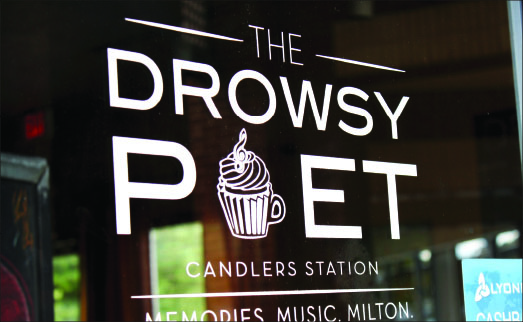 Visitors of the cafe will no longer be able to enjoy the famous Milton at the Candlers Station location
After years of serving Liberty University's campus with its infamous Milton, the Drowsy Poet closed its doors Saturday, Oct. 19.
The cafe opened in 1994 and was famous for the Milton, a milkshake made with secret ingredients, said the owner Shani Roberts. The cafe was a common spot for students to visit after a stressful day of schoolwork
According to Roberts, the iconic Milton milkshake was named after the poet John Milton, writer of the famous poem "Paradise Lost." A portrait of him hung on one of the walls of the small cafe. The cafe had everything from cupcakes to sandwiches and was known for their unique coffee drinks, such as the Jane Austin and Da Vinci.
Roberts shared that the goal of The Drowsy Poet was to create "a relaxed, casual, classy, coffee cafe."
"We closed down this location because we were looking to pursue a different opportunity," Roberts said. "Our best memory there is meeting hundreds and hundreds of new people and hearing the talents of the college students, as well as other local talent."
According to Roberts, The Drowsy Poet hosted local musicians at least three times a week.
Open mic was held every Thursday, live music every Friday and Saturday nights, and other performers visited during the week as well.
One of these performers was alumna and singer-songwriter Jane Marczewski.
"The Drowsy Poet has been pretty iconic since I've lived in Lynchburg," Marczewski said. "It's where I went on my first Liberty date — and ordered a Milton, of course. I have some really sweet memories there. It's strange to think that The Drowsy Poet is no longer in business. I'll miss the really welcoming people that worked there."
Sophomore William Nott, founder of The Drowsy Poet Society, led a group that met for coffee every weekend to fellowship and worship with one another.
"When I first heard that The Drowsy Poet was closing, I thought it was a joke because it is such a big part of off-campus life and common place for students to hang out," Nott said. "It was definitely the best place to talk, get a Milton and (fellowship)."
According to junior Maria Van den Akker, some students visited the cafe to simply relax and enjoy company over a cup of coffee.
"I am sad because it was almost a tradition … I really liked the live music, and (the atmosphere) was always very welcoming," Van den Akker said.
Liberty students will miss the cafe and everything that is had to offer, senior Lauren Oldham said.
"I was really disappointed to hear that The Drowsy Poet closed," Oldham said. "I loved the atmosphere and enjoyed their Miltons especially."
Although this location has been closed, students do not need to say goodbye to their beloved Milton forever. The Drowsy Poet has another location on Lakeside Drive, which, according to Roberts, remains open.
For more information on the other location, visit drowsypoet.com.